How To Send A Google Doc To Someone Without Gmail
🕐 1 Jul 23
Google Docs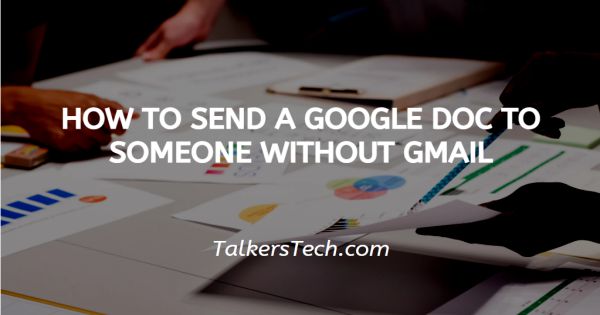 In this article we will show you how to send a google doc to someone without Gmail, Google docs is one of the most widely used tools to create documents for both personal and professional purposes. It is used by students for their assignments and projects, by teachers and professionals to create formal presentations, notices, documents, contracts, etc.
It offers a wide ambit of features and tools that allow one to change and customize the display of the content. You can change the font color, size, etc., add images, tables, on and on.

It is a document creating tool preferred over MS Word for several reasons, one of the most prominent being its auto-saving feature. Thus, if you close the document without saving it, none of your work is lost! Isn't that wonderful?

Almost always, you will be required to share the document with others who could be a non-Google account user. How do you do it in this case? Let us find out.

In this article, we will see how you can achieve this. Follow the steps as explained below and you will be done in no time.
Step By Step Guide On How To Send A Google Doc To Someone Without Gmail :-
Open your laptop, PC or mobile phone. Now there are two ways to open Google docs.
One way is to access it via the Drive. In the alternate case, you can click on the 'Grid' icon at the top right corner of the homepage of Google web browser.

In this article, we will use the Drive to get the job done. In your Google Drive, select the saved Google doc that you wish to share with users who do not have an active Google account and right-click on it using your cursor.
A drop-down list will open. From here, choose the 'Share' option and again choose Share in the extended list.

This will take you to a new window on the screen, the Sharing settings.
Click on the downward arrow at the right side against the Invite people section. Here, you decide whether the recipient can view, edit, etc. the document or not.

If this does not work, you can share the document after changing its format, which is as a PDF or a Word doc, etc.
In order to do this, right-click on the document and click on 'Share'. In the extended list, choose the 'Email as attachment' option.
This will open a new window where you can choose the format of the document.
Finally, enter the email address of the recipient and hit 'Send' located at the bottom.
Conclusion :-
I hope this article on how to send a google doc to someone without Gmail helps you and the steps and method mentioned above are easy to follow and implement.