How To Sell On OLX Fast
🕐 1 Jul 23
OLX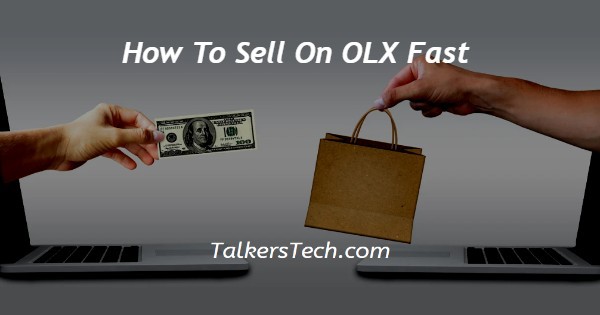 In this article we will show you how to sell on OLX fast, in OLX you can easily sell your commodity at a fast rate by upgrading and adding that will help you to reach more buyers. OLX provides various packages which will help you to feature your ad and reach more buyers. These packages come under various ranges starting from rs.
398 to rs. 1098. In case you are looking for a solution on how to sell on OLX fast this is the right article for you just follow the steps given below in order to sell on OLX fast.
Step By Step Guide On How To Sell On OLX Fast :-
Open the OLX application on your Android device.
It will ask you to login with email, phone or Google.
Next it will ask you to state the location manually or around you in order to buy or sell the products.
After setting the location you will see 5 tabs placed at the bottom of the screen.
These tabs are home, chat, sell, my ads and account.
Click the option- sell.
Now you need to select the category of your choice that you want to sell on OLX.
These categories include cars, properties, mobiles, jobs, bike, electronics and appliances, commercial vehicle and spares and more categories.
After selecting the category you need to enter the specific details.
In the case of a bike you need to enter additional details such as brand, year, KM driven, ad title, and describe what you are selling including the condition, features and reason for selling.
Similarly, in case of selling the furniture you need to enter its details.
In the next step you need to upload the photos of your commodity in order to increase your chance of selling it on OLX. . You can choose more than one photo for your item.
In the next step you need to set a price in which you are ready to sell your item on OLX.
Now you need to confirm your location so that the buyer can contact you in case of closing the deal for selling your commodity.
You can also change the location or set your current location.
On the review page you need to review your details such as your name along with your phone number to get verified.
Click the option verify account to proceed further.
Once the account is verified it will show you that your ad will go live shortly.
On The Congratulations page you will see two options at the bottom of the screen called sell faster now and preview ad.
Click the option to sell faster now.
On the next screen you will see various packages that will help you to feature your ad along with its price.
Select the package of your choice.
After selecting the packet it will redirect you to the payment page and will ask you to choose one of the payment method from card payment, net banking and UPI.
Once the payment is done your ad will show up with the featured tag in the top position.
Conclusion :-
I hope this article on how to sell on OLX fast helps you and the steps and method mentioned above are easy to follow and implement, In This article is an essential guide on how you can sell on OLX faster.