How To Select All Messages In Telegram
Last Updated : Dec 6, 2022
IN - Telegram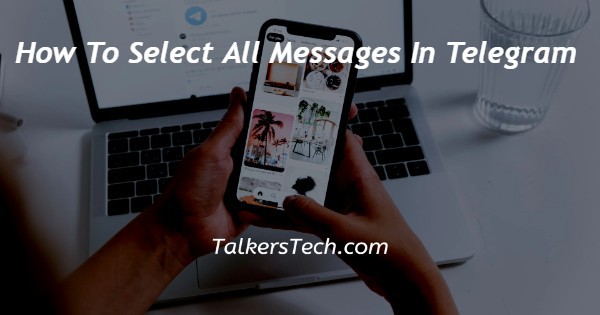 In this article we will show you the solution of how to select all messages in telegram, in case you do not want to delete all the conversation you can select all or multiple messages on telegram desktop and application available for android and iOS users.
It is important to delete useless messages altogether and keep things simple in your telegram account.
For this you can easily delete messages by simply tapping it or selecting individually.
The select option in telegram help you to either delete, forward or copy the message in telegram application.
In case you are looking for a solution how to select messages in telegram this is the right article for you just follow the steps given below in order to select all messages in telegram.
Step By Step Guide On How To Select All Messages In Telegram :-
Open telegram on your device.
In case you have not created your account you just need to enter your number.
After entering your mobile number you will receive one-time password for verification.
Enter this otp to successfully logged into your telegram account on android device.
After successfully logging in to your account, you will see the list of all the chat in the left side corner.
After this you need to tap on the chat or telegram channel for which you want to select a message.
You can scroll down through your chat and conversation to select.
In case you are not able to find the conversation or the telegram group/ channel, you just need to click on the search box placed at the top right corner of the screen.
In the search by type the username or name of the channel.
Once the chat box is opened you need to simply long press on the specific message for selection.
Once you long press the message a green-coloured circle will appear on the left side.
The green coloured circle also included tick-mark which show that the selection is active for the selected message.
Now for other messages the circle will be empty this means the selection is not active for those messages on telegram android.
To select the the messages you need to simply click the circle so that it becomes green with the tick mark.
In this way you can select all the messages in a private chat, channel, or group.
Once the messages are selected you will see three options appearing over the screen.
These options are called copy, forward and delete.
It is your choice after selection what you want to do with all the messages in telegram android.
Conclusion :-
In this article we covered an essential guide on how you can select messages in telegram android.
I hope this article on how to select all messages in telegram helps you and the steps and method mentioned above are easy to follow and implement.