How To See Who Visited My Facebook Profile
Last Updated : Jul 15, 2021
IN - Facebook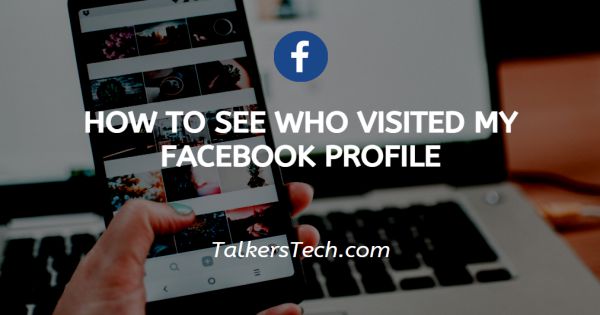 In this article we will show you how to see who visited my Facebook profile, are using Facebook and willing to know who has visited your Facebook account ? Facebook has privacy features but it would have been even better if they had an option "who visited your profile".
Well there is no feature in Facebook for this but with some tips that I will share to you in this article today , you will be able to see who visited you Facebook profile.

Facebook is one of the most popular social media applications in the world and it's growing day-by-day.

People use Facebook to chat, make calls and video calls, connect with different people, watch videos and much more.

On Facebook anyone can search your profile and see it . Follow these steps if you want to know who visited your Facebook profile.
Step By Step Guide On How To See Who Visited My Facebook Profile :-
You can only do this in an Android smartphone, tablet or in any android device.
Open Play Store application on your device. It's like a multi-colored triangle in a white suitcase.

After you open the Play Store application it's interface is like this given in the screenshot .

Click on the search option and it is located in the top of the application as you can see in the screenshot given below

Type "Who viewed my profile"

There are too many applications on your screen . Download any application which has good reviews.
We don't support doing this , if you are willing to know who visited your Facebook profile then you can do this at your own risk. As, the application you have downloaded may be a malware and trap your Id and password .

Download any and open your Facebook profile and check who has visited your Facebook profile , once you have seen this then go to your Facebook account settings and remove the access from this app to secure your account.
I have downloaded an application to show you how it works .If you don't like this one You can download other applications as too many alternatives are available in Playstore. I have chosen it because it has good reviews.

Click on the 'Install' button and download the application.

After installation, open the application and click on "Log in with Facebook".

Fill up your account details and login your account.

After log in you can see who visited your Facebook account .

We are not recommending any applications. Do it at your own risk.
Conclusion :-
There is no way to do it in IOS you can only do it in Android. This is the efficient way to do this. I hope this article on how to see who visited my Facebook profile helps you.