How to see deleted status in WhatsApp
🕐 1 Jan 23
Whatsapp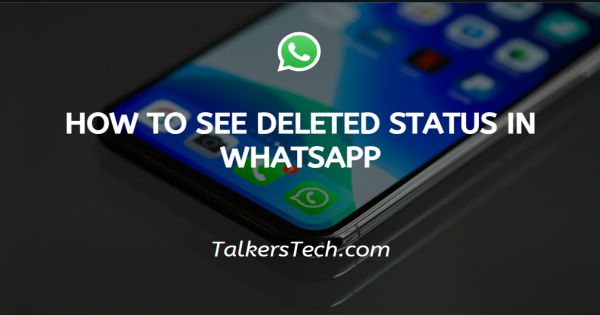 If you are looking for ways on how to see someone's deleted status on WhatsApp then you have definitely hit the right article. In this article we will show you how to see deleted status in WhatsApp.
It is a free App and can be downloaded easily from Play Store or App Store. It allows the user to make national and international audio/video calls using mobile data or Wi-Fi.

WhatsApp as everyone is quite aware is a cross platform messaging and voice over IP service which is now owned by the social network giant Facebook.

With WhatsApp rolling out new features every now and then it becomes very essential for the users to know all the tiny details of WhatsApp.

At times out of curiosity some users might want to view a particular WhatsApp status of someone after the stipulated twenty-four hours or after the other person has deleted the status.

For those users I will be showing this hack which has to be done with a third-party app. One must be very careful with these kinds of tricks and use the method at your own risk.

The hack can be tried only on Android devices as such kind of Apps are generally not available for iOS devices. Now it must be mentioned here that this hack works only if the user has already viewed the status update.

Below I have shown a few steps which the users can follow:
Open WhatsApp on your phone.
Click on the status tab.
View the Status update.
Install Whatsaga on your phone. (Third party App)

View the Status update from Whatsaga.
Tap on the save button on Whatsaga.
Now the status update gets saved on your Whatsaga app folder.
Conclusion :-
That's it. You are done.

Now you can view the status update even after the twenty-four hours or after the user has deleted the status update from his WhatsApp account.

Hope the article on how to see deleted status in WhatsApp helps you