How To Screen Share Netflix On Discord
Last Updated : May 6, 2022
IN - Netflix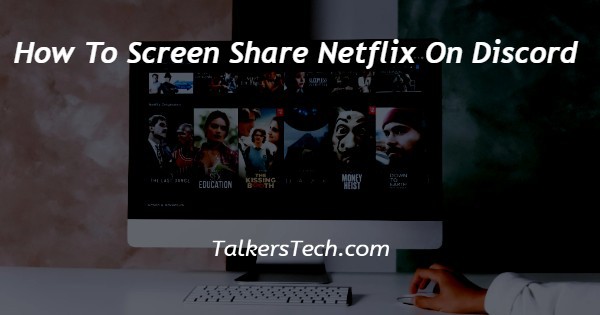 In this article we will show you how to screen share Netflix on discord, Netflix is a name known in every household today. It has become extremely popular in the recent years.
It operates in over 190 countries and has a library filled with movies, TV shows, documentaries, etc. from various different genres.
Starting from romantic classes, to action, thriller, comedy, etc. Netflix has something for everyone and allows all its user, irrespective of their choices to simply Netflix and chill.
It customizes the content and suggestions to each user based on his viewing activity.
It monitors and analyses the previously watched titles to curate the most similar and sub-genre titles for you so that you can continue to stream online without any hiccup.
In this article, we will see how you can share your screen of the Netflix app on discord.
Thus, if you are someone who has been wanting to do the same or learn more about it, you have come to the right place. Don't search anymore, we got you.
You have to treat Netflix like any other game and the rest of the process is quite seamless.
Below, you will see all points that will help you understand how you can screen share the Netflix app on Discord in just a matter of a few clicks just go through these points and enjoy the Netflix app even more.
Step By Step Guide On How To Screen Share Netflix On Discord :-
The first thing that you will need if you want to do this, is of course, have a registered and active Netflix subscription.
Without this, there would be no meaning of starting this process.
To start the process, you will need to go to your web browser and navigate to the 'Netflix' app or website.
Now, access Discord in order to make sure it's connected to an internet connection.
In the next step, click on 'Settings' icon located at the bottom of the page. Here, you will need to choose what 'Game Activity' you want to use.
Once that is done, tap on the 'Add it' icon and choose the tab in your browser with an active streaming service.
Now, at the time of selecting Netflix, you will need to select the 'Add Game'.
In the next step, when you exit the 'Settings', you need to click on the screen icon that is in the lower-left corner.
Now, on the pop-up labelled 'Screen Share', choose the tab you wish to stream and set the streaming settings as per your preference.
Finally, all that is left to do is click on the 'Go Live' icon and begin streaming Netflix.
Conclusion :-
This is how you can share screen of your Netflix account on Discord and I hope this article on how to screen share Netflix on discord helps you and the steps and method mentioned above are easy to follow and implement.