How To Scan Wifi QR Code In Android
🕐 9 Apr 23
Android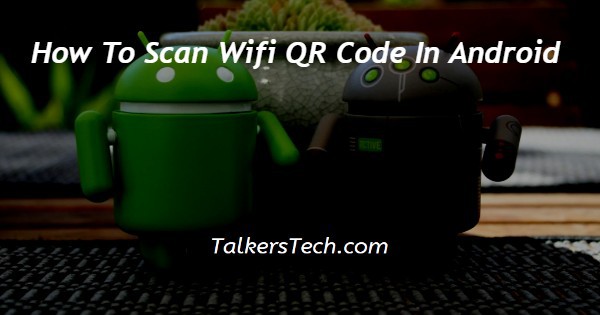 In this article we will show you the solution of how to scan wifi qr code in android, Android's latest version snow provide the easy connect features for the Wi-Fi that made the Wi-Fi sharing network easy.
Now Android user can simply connect to Wi-Fi network with the help of sharing the QR code.
Scanning Wi-Fi QR code is very helpful whenever a user visits a friend or relative place as it eliminates the requirement of entering the Wi-Fi password manually for distinct devices.
In case you are looking for a solution how to scan Wi-Fi QR code on Android this is the right article for you.
Step By Step Guide On How To Scan Wifi QR Code In Android :-
You need to first make sure to turn on your Wi-Fi network.
To do this you need to simply go to the settings on your Android device.
Under settings you will see various options regarding privacy, update, security, display, about phone and other.
Now you need to click on the Wi-Fi and connection options.
Make sure to turn on the toggle place next to the Wi-Fi option.
Another way of enabling Wi-Fi on your Android device is to simply swipe down the screen to find the shortcuts are the top of the screen.
From the shortcut you need to press the Wi-Fi option for a few moment.
After this on the next screen you will see all the Wi-Fi network.
Now you need to make sure that you have the Wi-Fi QR code in your hand for scanning.
In the Wi-Fi screen you will see the connected devices along with available networks.
Just below available network you will see the option of ad network along with Wi-Fi settings.
Now you need to click on the option add network.
As you can see in the picture given below there is a QR code icon next to the ad network option.
Once you click this option it will automatically open the scanner.
Now you just need to scan the QR code of the Wi-Fi network you wish to scan.
After the QR code of the Wi-Fi network is successfully stand you just need to click on the connect option and your phone will be automatically connected to the Wi-Fi network.
Conclusion :-
In this article we covered an essential guide on how you can stand Wi-Fi QR code in Android device and now you can scan your Wi-Fi QR code in Android without entering password manually.
I hope this article on how to scan wifi qr code in android helps you and the steps and method mentioned above are easy to follow and implement.