How To Save Instagram Posts To Camera Roll
🕐 1 Jul 23
Instagram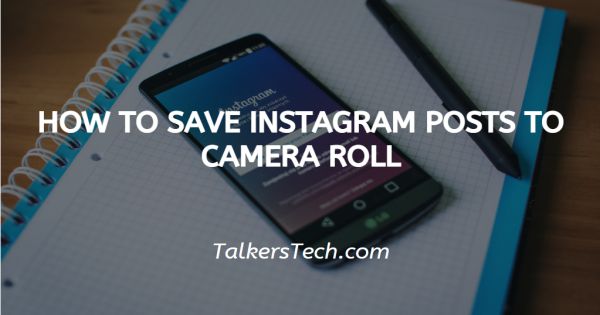 In this article we will show you how to save Instagram posts to camera roll, Instagram One of the emerging social media platforms. It helps you to share your content and connect with friends all over the world.
The content of Instagram is quick forwarding so in this case you should know how to save Instagram post to camera roll for memory.

People wish to save their posts in order to keep them as a memory or start with the fresh feed.
Step By Step Guide On How To Save Instagram Posts To Camera Roll :-
This application makes it very convenient for you to save the photos that you have clicked, filtered or edited. You can easily save it in your camera roll.
Open your Instagram application on your smartphone. In case you do not have Instagram, Download it from the Play Store.
At the bottom of your screen you will see your profile picture displayed or a human shape icon. it depends on the version of Instagram App you are using. press that option.
Search through your own profile page and press the three horizontal lines representing the menu option which is placed at the top right of your screen.

In the menu option you will see various options such as- settings, archive, your activity, QR code, saved, close friends.
Press the option of settings .

In the setting page, search for the option of account.

The account page provides various options such as personal information, your activity, saved, close friends, language, caption, Browser setting, sensitive content control, contact sync, share, mobile data use, original post and post you have liked.
Click the option of the original post.

Instagram offers you the choice to instantly save the Instagram post on your own. you just need to press the toggle on your right side in order to save the original photo/ post.

After enabling this option now every photo you ever post on Instagram will automatically be saved in your camera roll.
Conclusion :-
I hope this article on how to save Instagram posts to camera roll helps you in this article we discussed an essential guide. The method discussed above is one of the easiest ways to preserve your memories or in case you try to change your feed.

The steps mentioned above are quite detailed and I hope this article is helpful in resolving the issue of how to save your Instagram post to your camera roll.