How To Retrieve Deleted Emails From Gmail On Android
🕐 1 Jul 23
Gmail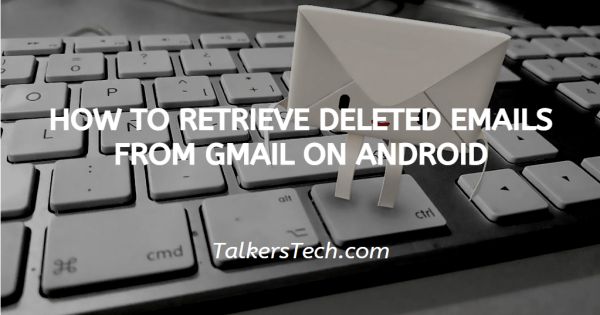 In this article we will show you how to retrieve deleted emails from Gmail on android, sometimes people can lose their important email. Also, we delete many emails which don't seem important To us but in the future we realize its need.
In such cases we wish to retrieve those deleted emails from our Gmail account. Whenever you delete an email on Gmail, it directly moves into a folder named as Trash.

By default all your deleted emails are listed here. You can easily retrieve your deleted emails using the trash folder of your Gmail account.

The terms and conditions of Gmail state that . Your deleted emails should not be over 30 in the trash folder. However, if your account of deleted emails is over 30, it will auto-delete permanently

The problem of email deletion occurs regularly and all the Gmail users need this solution once in a lifetime to get back the deleted emails.
Step By Step Guide On How To Retrieve Deleted Emails From Gmail On Android :-
Open your Gmail application on your Android device. in case you haven't logged into your account simply write your email address along with password.
After logging into your account click on the three horizontal lines which are placed at the top left corner of your screen.
A pop-up menu will appear on your screen showing recent labels, all labels and Google apps.
Under the column of all labels, click the option of Bin.

All the emails that you have deleted in the past 30 days will appear in the Bin page.
At the top of the page, Gmail informs you that items that have been in the bin for over 30 days will be automatically deleted.
Select the email that you want to retrieve from Gmail on Android.
Click the three vertical dots present at the top right corner of your screen after selecting the specific email.
A pop-up menu will appear on your screen showing options like move to, snooze, change labels, Mark as important, mute And report spam.

Click the option of move to which is placed at the top of the Pop-up menu.
Gmail shows you another pop-up showing you the option where you can move this specific email. you can move the retrieved email two primary, social, promotion and unpaid.

At the bottom of the screen Gmail will show you the confirmation that your email has successfully moved to the selected folder. In case you wish to undo this operation, click on the option of undo right next to it.
Conclusion :-
I hope this article on how to retrieve deleted emails from Gmail on android helps you, in this article we covered an essential guide. The steps mentioned above are quite detailed and easy-to-follow.