How To Remove Followers On Spotify
Last Updated : May 11, 2022
IN - Spotify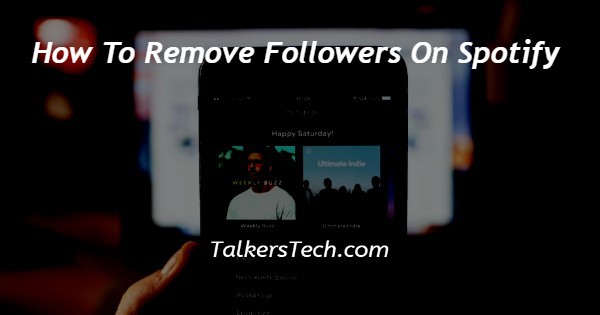 In this article we will show you how to remove followers on Spotify, Spotify gives a great offer for the music lover to listen to their favorite track and you can also follow the celebrities in order to listen to the latest album.
There is no direct method through which you can remove the followers on Spotify; however, you can easily block the people which will eventually stop them from following you on Spotify.
When you block someone on Spotify, then they will automatically be removed from your followers list and they cannot follow you again.
The reason for removing followers on Spotify can vary. It can be if anonymous users follow you and you don't want him or her to see your playlist on Spotify. in case you are looking for a solution on how to remove followers on Spotify this is the right article for you.
Step By Step Guide On How To Remove Followers On Spotify :-
Open the spotify desktop application on your PC.
In case it does not log you in to your account, simply enter your Spotify account credentials as your valid email address along with your password.
You can also login to your Spotify account using your phone number as the last Facebook ID and Google account.
After successfully login to your account, click your profile at the top right corner.
Click the downward Arrow place next to your profile.
The drop-down menu will show various options such as account profile settings and log out.
Click the option profile from the drop-down menu.
On the next screen you will see your profile name along with the Top artists this month, your following And public playlist.
Just below your profile name click the option follower count.
This option will showcase the number of followers that are following you on Spotify.
All these followers can listen to your favorite song.
Now in order to remove the followers on Spotify you need to select the specific person from the list of your followers on Spotify.
After selecting the person you will see his profile name and picture along with the three dots.
Click the options blog and again a pop-up box will appear on your screen with will ask you to confirm if you want the specific user name to be blocked on Spotify.
From the pop-up box, click the auction block to confirm this procedure.
Now when you go back to your Spotify followers count, you can no longer see the specific followers that you blocked on Spotify.
Conclusion :-
I hope this article on how to remove followers on Spotify helps you and in this article we covered an essential guide on how you can remove followers on Spotify on PC and the steps and method mentioned above are easy to follow and implement.