How To Remove Dropbox From Mac Without Deleting Files
🕐 1 Jan 23
Dropbox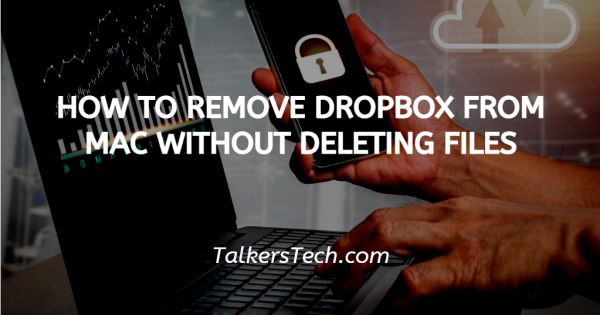 In this article we will show you how to remove Dropbox from mac without deleting files, Dropbox is a file hosting service that provides file synchronization and cloud storage. It offers users the option to build exclusive folders on each of their systems after the withdrawal box synchronizes them.
It offers 2 GB of free storage space which can store photos videos and other Documents. In order to remove Dropbox from Mac without deleting the files and other folders you first need to unlink your Dropbox account on Mac.

After you unlink the Dropbox account on your Mac you will be signed out on your Mac however the folder or the files will remain on your Mac.

In case you are looking for a solution on how to remove Dropbox from the map without deleting files, this is the right article for you.
Step By Step Guide On How To Remove Dropbox From Mac Without Deleting Files :-
On your, Mac opens the Dropbox website or application.
In case it does not log you into your account enter your valid email id along with your password. You can also login into your account using your Google account.
Look for the Dropbox icon on the menu bar.
Tap your profile image placed at the right corner of the Dropbox main page.
In the drop-down menu select the setting option.
It will display various options named general, plan, security, notifications, connected app, and Default apps.
Look for the security tab and click to devices.
You will see all the devices that are linked to your Dropbox account on the next screen.
Now in order to unlink a specific device type, the trash icon is placed just beside the device title.
Now press confirms to unlink the selected device.
Now visit the Dropbox icon of your menu bar again and tap the setting icon.
In the drop-down list, you will see various options named get more space, pause syncing, snooze notifications, references help center, and quit Dropbox.
Select the option quit drop box from the drop-down menu.
Now open finder and click applications.
Among all the application search for Dropbox.
Right-click the Dropbox icon and it will show various options name open, get info, rename, duplicate, and others.
Select move to trash.
Conclusion :-
I hope this article on how to remove Dropbox from mac without deleting files helps you in this article, we covered an essential guide and the steps mentioned above are quite detailed and easy to follow.