How To Remove Credit Card From Facebook Business Page
🕐 1 Jul 23
Facebook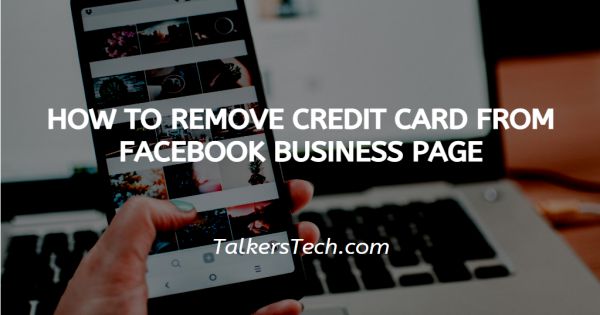 In this article we will show you how to remove credit card from Facebook business page, Millions of businesses use Facebook to promote their business. Facebook has about 2.7 billion users on its platform which provides huge exposure to your brand.
Creating a business page for your small business on Facebook can help you boost your sales and increase recognition. Facebook provides small businesses a number of ways to promote their brand.

You can directly sell your products from Facebook and receive direct payment. You can also advertise on Facebook, the good thing about Facebook ads is that your ads reach the right audience.

Facebook has all the information about a user's Facebook history and it also receives information from third party websites about user's internet activity, You can pay to use this information for advertising to the right audience.

To advertise on Facebook you need to add your credit card. All the payments for your ads will be done through your credit card. You can also use other modes of payment such as PayPal, Debit card.\

The availability of different payment methods depend on your country, you can check what method is available in your country by going on Facebook website.

For any practical reason you might want to remove your payment method such as credit card from your Facebook business page, In this article we will be taking you through the steps using which you can remove your credit from the Facebook business page.

You can remove a payment method from your business page by going to the payments settings in Ads manager. Please note that to remove credit card from Facebook business page you must have to be the admin of the page.
Step By Step Guide On How To Remove Credit Card From Facebook Business Page :-
Advertising in Facebook is very effective and it reaches to your target audience. You can pay for the ads from your credit card. for some reason you may want to remove or change your credit card. You can easily remove or change your credit card by following the steps given below
Open the Facebook app in your mobile or tablet. You can download it from the Appstore or Playstore. You can also open your Facebook page from the web.
Now open the ads manager and then tap on the payments settings
Go the Payment method section and find the credit card you want to remove, Click on Show more to see all the payment methods

Now select the card you want to remove and then click on Remove. Click on Remove in the confirmation screen and your credit card will be successfully removed from your business page.
If you want to remove your card and want to continue advertising on Facebook then add another payment method before you remove the current credit card.
Conclusion :-
If you no longer wish to advertise on Facebook or just want to change the payment method then you can easily do it from the ad manager. I hope this article on how to remove credit card from Facebook business page helps you.