How To Remove Ads From Voot
Last Updated : Aug 3, 2022
IN - Voot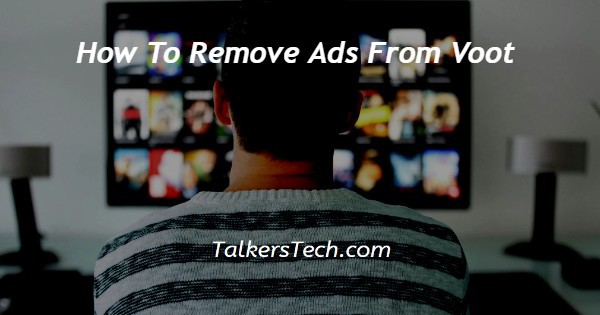 In this article we will show you how to remove ads from voot, in case you want to stream your favorite TV show, movie, or web series on Voot, you can easily download a third-party application called blokada from Google Play Store.
With the help of this application it manages and blocks all types of advertisements on various mobile devices.
It is a subscription-based App, so you need to select the type of plan you want to activate before removing it from voot.
Removing ads from voot is very important these days as whenever you play a show on the voot application, there are approximately two ads popping on the screen before starting the show.
In case you are looking for a solution on how to remove an advertisement from voot, this is the right article for you just follow the steps given below in order to remove ads from voot.
Step By Step Guide On How To Remove Ads From Voot :-
On Android Device
Open Google Play Store on your Android device.
First, you need to login into your voot account by entering your credentials, such as your mobile number or using social media accounts.
After successfully logging into your account, you will see whenever you play a show within the application, two ads are popping up on the screen.
This advertisement can be very frustrating and can also vary in duration and number.
In case you want to get rid of this advertisement, you need to go to the play store again.
Now in the search bar you need to type blokada.
Now click on the option to install and wait for a few moments till the application is installed on your device.
Once the application is successfully installed click open.
Now on the next screen you will see 4 tabs placed at the bottom of the screen.
These tabs are called home, activity, advanced and settings.
Click on the option home and you will see the option to activate.
When you click the option tap to activate on another screen you will see a different type of subscription plan that you can easily purchase from Google Play store in order to remove ads from voot.
The subscription plans are called cloud and Plus. Both the plants have different features.
The first plan called cloud block the ad and the tracker. On the other hand the second plan call + provides additional protection along with the VPN and blocks the ads.
Now select the type of plan and make the payment using credit or debit card, redeem code.
Once you make the payment, you will see that when you are playing any program on voot application, it completely removes the ads before starting the show.
Conclusion :-
In This article, we covered an essential guide on how you can remove advertisements from voot.
I hope this tutorial on how to remove ads from voot helps you and the steps and method mentioned above are easy to follow and implement.