How To Refer A Friend In Zomato App
🕐 1 Jul 23
Zomato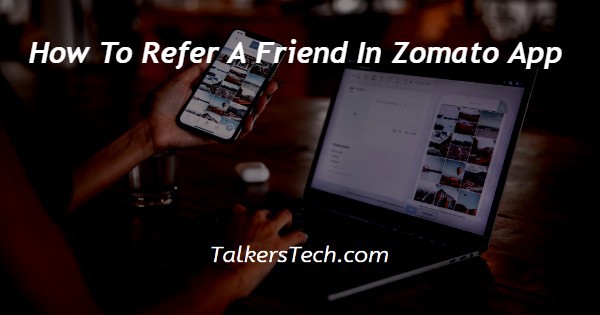 In this article we will show you the solution of how to refer a friend in Zomato app, Zomato is the online food delivery app, those who want meals delivered to their door can use this online service that allows them find nearby restaurants.
One of the most extensive and customer apps for locating nearby restaurants, placing online food orders, and having meals delivered right to their home is Zomato.
In order to gather factual information on restaurants, it also provides menus, reviews, and ratings.
Users can place orders and eat excellent food inside the comfort and privacy using this platform.
We are all aware that Zomato is offering a significant discount as part of its World Cup promotion, and each user will receive up to 100% cashback on their food purchases.
In addition, you will receive 50% cashback on your first Zomato order if you use our Zomato referral code.
If you're unsure how to suggest Zomato, don't worry in this article we explained you the process on how to refer a friend in Zomato app
Creating your referral code is a simple process and sharing it with friends is a fantastic way to connect while also providing discounts on initial orders.
Step By Step Guide On How To Refer A Friend In Zomato App :-
At first. Download the Zomato app from the play store and install it on your smart phone.
Then open the Zomato app on your smart phone and login to your account by providing the account details.
After logging in to your Zomato account. Open your profile icon in the app.
Then scroll down till you find "invite and earn" option.
Once you find the invite and earn option then click on it.
After clicking on it there will be a referral code which is unique in characters that was provided by Zomato.
From there you can share the referral code which is present in Zomato app to your friends and known persons through other applications on your smart phone.
You will get 100 rs into your account as it is the part of referral code offer.
Your friend will receive a 50% discount on their first buy if they successfully sign up using your referral code.
One of the most thrilling services available by Zomato is the "Refer and Earn" referral code for new users.
One of the most fascinating programmes offered by Zomato is the "Refer and Earn" referral programme.
By simply sharing the unique referral code to your friends and family, you may participate in this programme and earn free money for your Zomato wallet.
Your friend or relative will receive a one-time discount of Rs 100 when they enter the coupon at checkout.
They must place an order totalling Rs. 300 or more in order for this promotion to be effective.
Conclusion :-
This article deals with the complete information on how to refer a friend in Zomato app.
Zomato Refer Earn Program requires you to simply share the Zomato Referral Code to your friends or on social media.
When your friends sign up for Zomato and use the Zomato Referral Code when placing their first order, they will receive a flat 50% discount up to Rs. 200.
I hope this article on how to refer a friend in Zomato app helps you and the steps and method mentioned above are easy to follow and implement.