How To Redeem Big basket e Voucher
Last Updated : Jun 20, 2022
IN - Bigbasket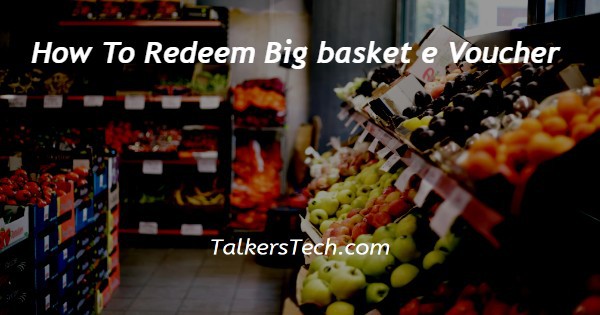 In this article we will show you how to redeem Bigbasket e voucher, the Bigbasket vouchers or gift cards can be used easily on the Bigbasket website application as well as the mobile site.
These pictures have a validity of 12 months starting from the date of issue.
The e voucher is delivered instantly but sometime due to technical issues the delivery can also arrive at late hours.
The amount of the water in the Bigbasket that automatically credits to the BB wallet which can be used across various orders from Bigbasket official website or its application on Android or iOS devices.
In case you are looking for a solution on how to redeem a Bigbasket e voucher this is the right article for you just follow the steps given below in order to redeem a Bigbasket voucher.
Step By Step Guide On How To Redeem Bigbasket e Voucher :-
By Using Bigbasket Official Website
Open Google Chrome or any other Browser on your device.
Now search for the Bigbasket official website.
After clicking the website you need to tap the sign in option placed at the top right corner of the screen.
Pop up box will appear on your screen which will ask you to log in or sign up using a mobile number or Email address.
In case you are using mobile number for logging into Bigbasket account you need to enter the one-time password that you have received on your mobile device.
After successfully login into your account you need to click the downward Arrow placed next to your profile at the top right corner of the screen.
A drop down menu will appear on your screen which will show various options such as my account, my order,Wallet, my reward, ask us, customer service and logout.
Click the option my account to proceed further.
On the my account page the left side menu will show various option such aspersonal details, shop from, my orders, my gift cards, my wallet, my payments, alerts and notifications and locate on map.
Click the option of my gift card from the left side menu.
In order to add a gift card in Bigbasket you need to enter your gift card number and the gift pin that you have recently received in your email by purchasing a gift card in Bigbasket.
Once you enter your gift card number and pin click the option redeem to proceed further.
After clicking this option at the bottom of the screen you will see a notification which informs you that your gift card money is successfully credited to your BB wallet.
Now if you check your BB wallet under my account section you can easily see the price that is redeemed for added through gift card in Bigbasket.
Conclusion :-
I hope this article on how to redeem Bigbasket e voucher helps you and steps and method mentioned above are easy to follow and implement.
In this article we covered an essential guide on how you can redeem a Bigbasket voucher on the official website.