How To Redeem Amazon Pay Gift Card
Last Updated : Dec 27, 2021
IN - Amazon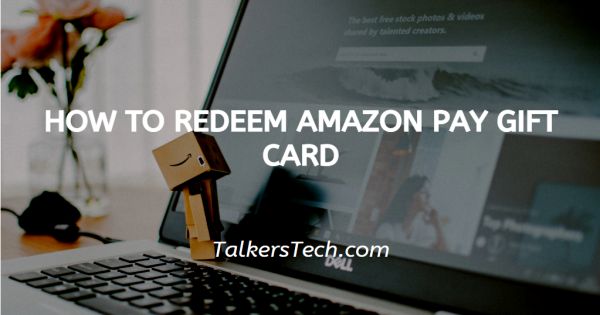 In this article we will show you how to redeem amazon pay gift card Amazon is the world's most popular online shopping platform. It offers to sell everything under the sun, quite literally!
Amazon sells products ranging from daily essentials to heavy duty items like electronics, furniture, etc. In the recent years, it has also begun offering various services, software, etc.

Recently, gift cards have become a cult favourite. It is a convenient way of gifting that ensures that the recipient truly values and uses the gift and it does not end up becoming a boring passing down item.

Kindly note that you will not be able to use your gift card with POD or EMI options in a single transaction. In this article, we will see how you can redeem Amazon pay gift cards in just a few easy and quick steps.

Follow the instructions as explained below and you shall be done in no time.
Step By Step Guide On How To Redeem Amazon Pay Gift Card :-
Unlock your mobile phone and go to the 'Amazon shopping' app. You can also access the website directly when you don't have a registered account via your web browser.

Next, you will be brought to the home page of your Amazon app account. Here you will be able to see all the latest offers and attractions.
At the bottom of the page, you will be able to spot a panel with several options. Click on the 'Menu or hamburger' icon depicted by three horizontal lines.

As soon as you do this, you will be taken to the next page. Here you will see a grid with several options to choose from. Click on the 'Gifting' option.

A drop down menu will appear on the screen. From here, click on the 'Gift cards' icon to proceed further.
This will take you to the next page. Here you will click on the 'Add gift card' option.

Next, enter the gift card code in the text-field available and click on the 'Add to your balance' icon below to add the amount to your gift account balance.

As soon as you redeem your Amazon pay gift card, it will reflect in you Amazon account. You can use this amount to shop!
Another way you can redeem or activate the gift card is at the time of checking out and before making the final payment.
For this, you will have to enter the code of the Amazon Gift Card straight away on the payments page at the time of checking out an item. The Amazon pay balance will be automatically added to your account and will be applied to your purchase.
Conclusion :-
I hope this article on how to redeem amazon pay gift card helps you and the information helped you solve your problem