How To Recover WhatsApp Video Call
Last Updated : Dec 28, 2020
IN - Whatsapp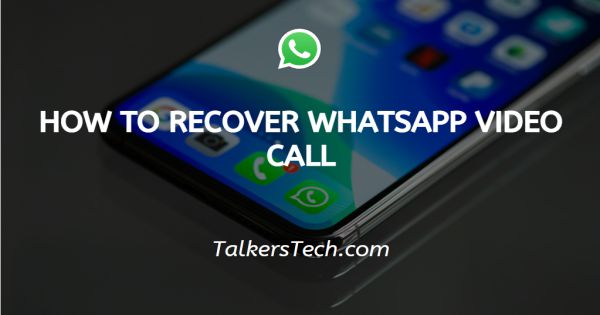 In this article we will show you how to recover WhatsApp video call, social media application is the new real-world for people around the world. Every person use social media nowadays and most of the people access social media applications or sites from their mobile phone.
People really are into these things nowadays, people just think that this virtual world is the real world. Outdoor activities of people are like negligible, people are not going outside but are just spending more and more time in the virtual world.

Even I spend much time in social media even though I like to go out but social media is such an addictive thing that people just can't leave it. Social media applications like 'Facebook', 'Instagram' and others are the king-pins of the virtual or fake world.

Texting which Is the key-player in the virtual world, WhatsApp is the king there. For texting WhatsApp is the best application out there as it provides us with many features on chat. It provides us call over internet option with both the option to go for either voice call or video call. In WhatsApp you can look at all the calls you have made, unless you delete it.

What if you deleted it accidently or you are a parent who wants to check their children's call logs. Whatever the reason is you can check the deleted call logs on WhatsApp.

In this article we will tell you how you recover deleted WhatsApp video call in WhatsApp. There can be any reason because of which you want to do this. There are 2 methods to this.
Step By Step Guide How To Recover WhatsApp Video Call :-
First Method
Open you WhatsApp.
Tap at the 3-dots on top-right corner.

Tap at settings.

Tap at Account.

Tap at request account info.

Tap at Request Report.
You will receive account report in around 3 days.
Second Method
For this you have to make sure that you have back-up on google drive available.
If you have the back-up for this, uninstall WhatsApp.
Re-install it.
Login to WhatsApp.
Tap at recover data.
Then after backup is downloaded, your call logs will be restored.
Conclusion :-
The first method is more efficient because sometimes back-up files are not available on google drive. I would suggest that you should go with the first method and if you do not want to then go with the second method. I hope this article on how to recover WhatsApp video call helps you.