How To Recover Deleted Google Sheets
🕐 1 Jul 23
Google Sheets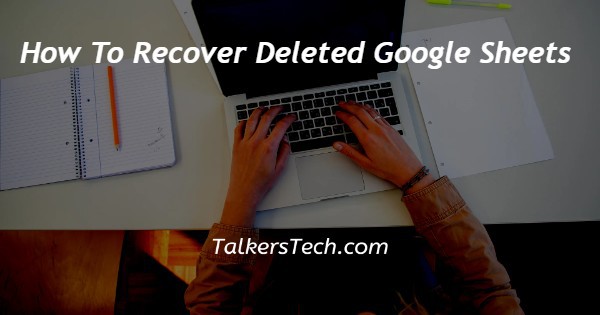 In this article we will show you the solution of how to recover deleted google sheets, with the help of Google Drive integration you can easily recover your deleted Google sheets.
It can be very frustrating for a user when he or she need specific information from a Google sheet but recently it is deleted from your account.
The procedure of restoring a deleted Google sheet is very short and varies depending upon the device and the one who has deleted the file.
You can easily recover your deleted Google sheet with the help of web browser or drive application in mobile device.
In case you are looking for a solution on how to recover deleted Google sheets this is a write article for you just follow the steps given below in order to recover deleted Google sheet
Step By Step Guide On How To Recover Deleted Google Sheets :-
Open Google Chrome on your desktop.
Now click on the nine dots placed at the top right corner of the Google homepage.
When you click these dots you will see various applications and services offered by Google such as contact, Gmail, meet, sheets, books, docs, youtube, calendar, Photos, shopping, chats and others.
Click the drive icon from the drop-down menu of Google app.
Open Google Drive on your desktop. In case you are not logged in to your account simply enter your valid email id along with your password.
After logging into the account, you will see various options placed at the left side panel of the drive main page. These options include my drive, shared with me, resent, starred, trash.
Click on the option of trash placed at the left corner of your screen Under the logo of Google Drive.
The trash folder includes all the files that you have deleted in the past.
You can also get rid of a specific file by right-clicking it and delete permanently.
You can also select a fie based on trashed date and last modified by.
The trash folder can include all your files, documents, PDF, sub-folder, and other content stored in your account.
In case you want to recover your deleted Google sheet, Tap on the selected Google sheet.
Once you tap on the selected Google sheet,press right click.
Now you will see two options in a drop down menu called restore and delete forever.
Click the option restore from the right click menu.
Once you click this option this deleted Google sheet file will immediately return to your normal Google sheet list.
Conclusion :-
In this article we covered an essential guide on how you can recover deleted Google sheets.
I hope this article on how to recover deleted google sheets helps you and the steps and method mentioned above are easy to follow and implement.