How To Record Yourself Presenting A PowerPoint
🕐 9 Apr 23
Microsoft PowerPoint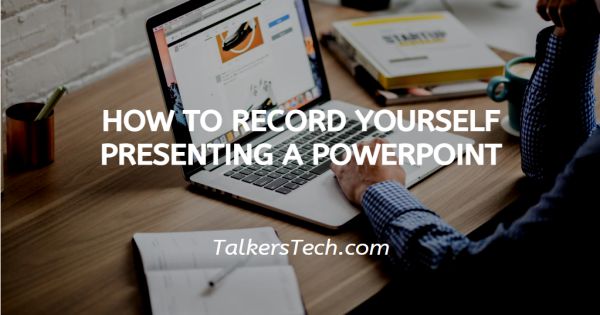 In this article we will show you how to record yourself presenting a PowerPoint, have you ever been in a boring, mundane and monotonous presentation where the only thing happening is the presenter reading out the text on the screen, without any personal touch to make it more interesting.
Or have you attended a presentation where the speaker is unable to explain the content clearly, or his voice over is not synced, etc.

I am sure the answer is yes! Then how do you ensure to get your point across without missing any important factor.

One great way is to record yourself presenting and explaining all the aspects of your presentation for a seamless presentation. Follow the steps explained below and you will be done in no time.
Step By Step Guide On How To Record Yourself Presenting A PowerPoint :-
Switch on your laptop or PC. Click on the 'Microsoft logo' icon located at the left bottom corner of the screen. This will open a menu on the screen.
From the list, go to the Microsoft office and choose PowerPoint app.

You can also access PowerPoint from your mobile device if you have its app. If you do not, you can download it from the Play store.
Once you click on the icon, a small window will appear on your screen which will take you to the PowerPoint.
Now open the PPT to which you want to add your recording.
Once the presentation is open, you will see the Ribbon at the top part of the page. Here, you will see several tabs, under which are several options you can use to make your presentation look more attractive, wholesome and effective.
Click on the 'Slideshow' tab at the top panel. This will open several options related to the category.

Click on the 'Record slide show' icon. This will open a dropdown list with two options. Choose the slide from which you wish to begin the recording, current or beginning.
This will open a full screen display with several options.

Click on the Camera icon to start your camera and connect the audio. You will be able to see yourself in a small window in the bottom right corner of the screen.
Now all that is left for you to do is click on the 'Record' button. This button is located at the top left corner of the screen.

As soon as you click on the button, a three-second timer will begin.
You can stop or pause or play the recording.
This is all you need to do to record yourself while presenting the PPT.
Conclusion :-
I hope this article on how to record yourself presenting a PowerPoint helps you and hope the steps and methods provided above was helpful.