How To Record Ps4 Gameplay For YouTube With Voice
Last Updated : Jan 1, 2022
IN - Youtube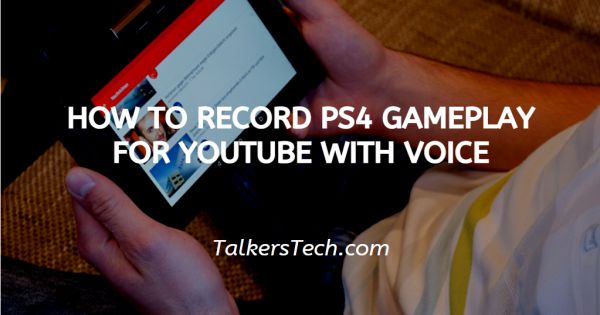 In this article we will show you how to record PS4 gameplay for YouTube with voice, without a doubt, the game on PS4 provides an excellent leisure experience. However, you can take your game adventure to an entirely new level by sharing game tactics and movements with other players on YouTube.
But do you know how you can record the gameplay of PS4 on YouTube? Fortunately, PS4 comes with its own built-in game recording functionality, as we will see in this guide.
Step By Step Guide On How To Record PS4 Gameplay For YouTube With Voice :-
Method 1 - Record gameplay on PS4 for YouTube? [with no capture card]
Of course, a capture card is a convenient gadget when recording PS4 gameplay for YouTube or whatever target on your PC.

But all the same, you can record the gameplay of PS4 directly on your console without any additional hardware required. PS4 lets you to specify the duration of the video clip that you are going to record.

Thus, without losing time, here is how to record the game on PS4 for YouTube without capture card:
First of all, adjust the video settings on PS4. To do this, double-click or long-touch the Share button to open the Share & Broadcast window.
Click here on the Length button of the gameplay video and select the output time. The recorded gameplay video can be as short as 30 seconds or as long as an hour.

Return now and load the video game you want to record. As the gameplay begins, you can start recording by double-clicking the Share button. Next, press the Share button twice after recording sufficient gameplay content.
You should be prepared to export your video footage to YouTube. PS4 enables you to do it directly on the console. To do that, tap the Share button again, go to Video Clip, and wait for the videos to load. Now choose YouTube as one of the available options. You also have an option to share the game on Twitter, Dailymotion or Facebook.

Choose the video you want to export to YouTube and enter the title and description of the video. Finally, click on the Share button.
Limitation: While capturing PS4 gameplay directly on PC does not support basic video editing features. For example, you may not cut the video to delete unwanted sections before adding to YouTube. Moreover, the maximum recording period is 60 minutes.
Method 2 - Recording PS4 gameplay for YouTube with voice [more editing options]
What if you want to record the gameplay of PS4 for YouTube right on your PC? You will need a capture card for that.

This method enables you to connect your PS4 console to your computer and introduce the gameplay in real-time. From there, you can save PS4 to your PC with no loss of quality.
Conclusion :-
Finally, I hope this article on how to record PS4 gameplay for YouTube with voice helps you and now you can easily record PS4 gameplay for YouTube with voice by following the above given guides properly.