How To Receive Payment On Facebook Business Page
🕐 1 Jul 23
Facebook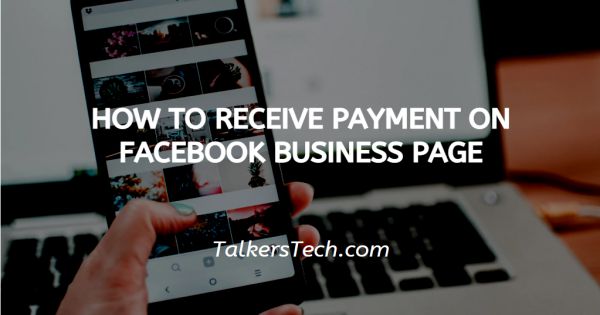 In this article we will show you how to receive payment on Facebook business page, there are billions of users of Facebook and through them, you can get your product across a lot of people. There are different features of Facebook that help you grow your business and sell your products.
The Facebook marketplace is the adequate place for selling your product directly to consumers and receiving payments.

Facebook basically holds the key to social selling with all the features that it provides to sellers as well as consumers.

Using tools like Facebook pay and Facebook messenger, you can easily receive money on Facebook through your Facebook shop.

So, the main requirement for receiving payment on a Facebook page is having a Facebook shop. Other than that, personal business pages are prohibited from using Facebook pay to receive money.

However, the main way to receive money using Facebook pay is through conjunction with Facebook messenger.

It is a country specific feature and not available everywhere. So, the steps to get money through Facebook pay is using Facebook messenger for your business page. The steps for setting it up includes the following.
Step By Step Guide On How To Receive Payment On Facebook Business Page :-
Open the Facebook app on your mobile or computer.

Select the three horizontal bars on the top right corner of your Facebook page.

Select the setting options towards the bottom.
Once the settings page is open, select the "Payments" option.

Select payments from the next page that opens up.
Then add a new credit or debit card. You can also link your PayPal account for direct transfer of funds.

Once you have entered the details then save from the top right corner of your page.
Go to your Facebook business messenger.
When talking to customers, you can receive payments directly by requesting for it.
Click on the bottom left corner of the messenger chat window.
A tab opens up showing different features that you can access and the first icon is for payment.
Select the payment option and page showing Facebook pay appears on screen.
Tap on continue in the bottom part of the page.
Type the amount that you need.
Click on request after typing in your amount.
The customer uses a similar method and just selects "pay" instead of "request", to send you the amount.
Conclusion :-
Thereby, if you follow the steps mentioned above then you can easily receive payment on Facebook business page.

The Facebook pay method of receiving and sending money is secure and safe. There are numerous security measures set in place for payment safety.

So you can receive payment on Facebook without any worry. I hope this article on how to receive payment on Facebook business page helps you and the steps and method mentioned above are easy to follow and implement.