How To Read WhatsApp Database Crypt12 Without Key On PC
🕐 1 Jul 23
Whatsapp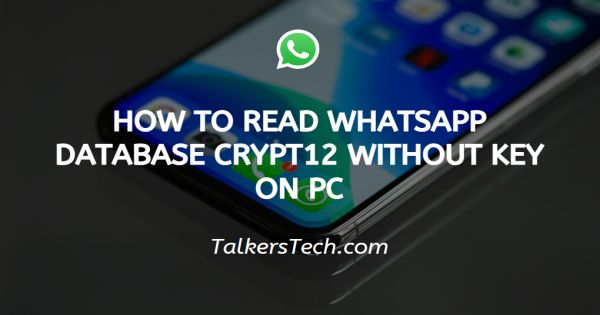 In this article we will show you how to read WhatsApp database crypt12 without key on pc, WhatsApp which is a social media platform offers the best texting facility to its users all around the globe. WhatsApp is secure and it has proven it, WhatsApp is end-to-end encrypted.
With this, even the employees of WhatsApp cannot access the data because the data is not stored on WhatsApp servers. The data is stored at the mobile device locally and as backup file on google-drive.

We can access WhatsApp on our pc also with the help of WhatsApp web, blue-stacks and Microsoft Store. Each method has its benefits and is best for their own purposes as fitted by the scenario. WhatsApp employees can not check our data but we can do it.

Decryption is the method with which one can access their data without opening up the WhatsApp application. It can also be used In the scenario where you have physical access to someone else's mobile phone and you want to check their text messages.

Personally, I would not suggest that action. One should not read someone's private messages, but yes one can decode their own messages. If you just want to have some fun while checking chats you can dop it too. In this article we will tell how you can decrypt WhatsApp chat database without key.
Step By Step Guide On How To Read WhatsApp Database Crypt12 Without Key On PC :-
First root your mobile phone.
Download 'Omni-Crypt' application, take assist from the logo mentioned in the picture below. You have to download an APK file of it from google chrome.

Allow all the permissions if it asks for any.
Many options will pop-up, tap at the 'Decrypt WhatsApp Database'.

Now, database is decrypted.
Open your file manager.
Navigate to WhatsApp>Database.
There you will find a file named 'msgstore.db.crypt'.

Connect your mobile device to your pc and copy this particular file to your pc.
Now you need an application named 'WhatsApp Viewer' in your pc.

After downloading, install it.
Click on the 'WhatsApp Viewer' to start the application.

On the Left-top extreme you will find an option named 'file'.

Click on it and click on open.

Navigate to where you have pasted the copied 'msgstore.db.crypt'.
Click on it.

Your decrypted chats are in front of your eyes.
Conclusion :-
This method is really good and you can do it to show-off in front of your friends or better you can teach them this method too. The scenarios where it is useful are not much but one can use it. I hope this article on how to read WhatsApp database crypt12 without key on pc helps you.