How To Put A Background On Google Docs Document
Last Updated : Jan 20, 2022
IN - Google Docs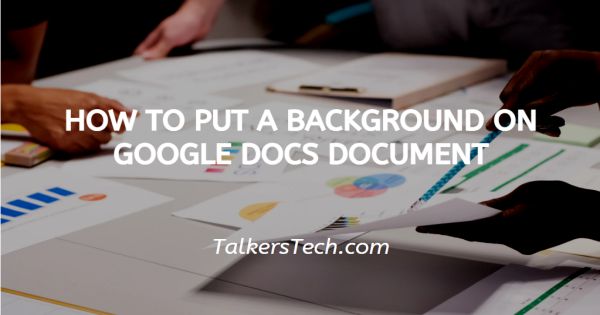 In this article we will show you how to put a background on google docs document, Google Docs is an amazing tool that helps you to create documents and spreadsheets with various editing and formatting tools.
Google Docs helps you to customize your background with various colors. In Google Docs, there is no direct method of setting the background image.

However, users can add a background color with few workarounds in case you also want to learn how to put a background on Google Docs document this is the right article for you.
Step By Step Guide On How To Put A Background On Google Docs Document :-
Open Google Docs on your PC.
Make sure you are logged in to your account.
In case it does not log you into your account simply enter your valid email id along with your password.
Now open the specific document where you want to put a background on Google docs.
You can search the document from recent or can type its related keyword in the search field placed at the top of the Google docs homepage.
Once the document is open, you are all set to put a background on Google Docs with the following steps.
The menu bar of Google Docs comprises various tabs including file, edit, view, insert, format, tools, add-ons and help.
Click the file tab from the menu bar.
The file Tab displays various options including share, new, open, Rename. Move. Add shortcuts to drive, publish to the web, document details, version history, make available offline, page setup and other options.
Select page setup from the following options of the file tab.

A page setup dialogue box will appear on your screen which comprises options for orientation, page size, page colour and margin.
Next to the page colour option. The paints colour option is placed at the bottom left corner of the dialogue box.

Now from the drop-down, you can select the colour of your choice for the background.
Google docs display the colour palette which comprises various colours that you can choose as your background.

You can also customise the colour of your background by simply tapping the custom option which is placed at the top of the colour palette.
Here you can choose a specific shade of your choice or you can also include an HTML colour code.

After selecting the colour of your choice simply tap the ok button.
Conclusion :-
I hope this article on how to put a background on google docs document helps you, in this article, we have discussed the step-by-step guide.