How To Post IGTV On Instagram Feed
Last Updated : Jan 4, 2021
IN - Instagram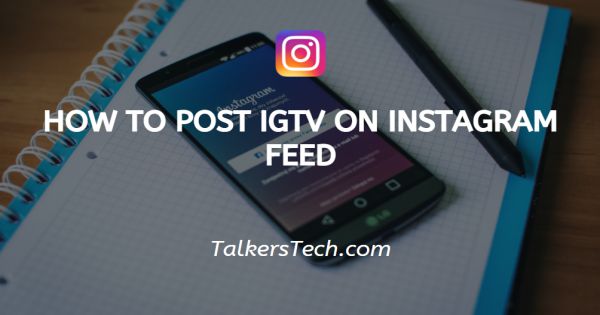 In this article we will show you how to post IGTV on Instagram feed, you will have to follow just a few simple steps and taps on the mobile screen, and you will be able to post an IGTV on Instagram.
So, before getting started with the article, we'd love to inform you that we provide all kinds of informative articles related to Instagram issues and provide a very simplified solution to the same.

So, kindly check the articles on the website. Now, without any delay, let us begin the article:
Step By Step Guide On How To Post IGTV On Instagram Feed :-
Now, Instagram is also coming up with its new features, and we know it's sometimes hard to catch up with all of them. Instagram is releasing new features like Instagram Reels, Instagram Stories/ Stickers, Instagram Boomerang, etc.

One of the features which people are still unable to use is Instagram IGTV. It is pretty easy, and we hope you will find it easy too. We have provided simplified steps below:
Open your Instagram application in your android or your IOS device.
Now, search for a plus icon (New post icon). As per the latest update, it is present on the top left corner of the screen. But if you are using the older versions of Instagram, you will find it in the bottom centre of the screen.

Here, select the video which you want to post as an IGTV video.

Select the option named 'Long Video' to post the video as an IGTV video and click on the 'Continue' tab.

Now, here, you have to select a cover image for your video. You can choose a video frame, or you can select an image from your mobile gallery.

On this step, you have to provide an appropriate video title and description for your IGTV video. And after you are done entering the title and description, click on 'Post to IGTV' option.

And you have successfully uploaded your IGTV video on your Instagram feed.
So this was a simplified and easiest way to upload an IGTV video on Instagram. We hope now you know How to post IGTV on Instagram feed.
Conclusion :-
So, in this article, we provided you with the easiest and reliable way by which you can easily post IGTV on Instagram feed. We wish that you got to know all about How to post igtv on Instagram feed.

Just follow these few steps, and you are all set to post your amazing content out there in this Instagram social media platform and front of their millions of users.

For more such Instagram related articles, check out this website. For now, we'll conclude this article. I hope this article on how to post IGTV on Instagram feed helps you.