How To Port Vodafone To Airtel
Last Updated : Jun 7, 2022
IN - Airtel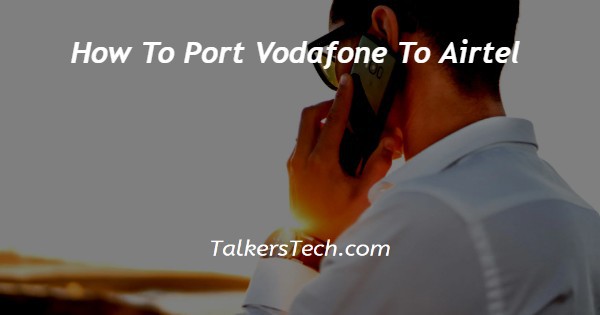 In this article we will show you how to port Vodafone to airtel, the Telecom market allows users to try different networks by offering better offers and services as compared to their competitors.
This is the main reason why users prefer to leave their existing Network and switch to another network. Mobile number portability is a service which helps the user to change their mobile network without changing their mobile number.
Vodafone users can also change their mobile network and switch to Airtel without changing their number.
In case you are looking for a solution on how to port Vodafone to Airtel this is the right article for you just follow the steps given below in order to port Vodafone to Airtel.
Step By Step Guide On How To Port Vodafone To Airtel :-
You need to open the message application on your Android device.
In the text field type PORT space, your mobile number, PORT should be in capital letters as it is case sensitive.
You need to send this sms to 1900. It is a USSD code.
Once the message is delivered successfully you will receive another SMS with the UPC with which will send you a porting request. UPC is a unique porting code. Along with the UPC you will also get to see the time and the validity up to which it is available.
It also informed us that you do not need to share the UPC with anyone except the recipient personnel.
After generating the UPC code you need to go to the nearby Airtel store.
Before going to the nearby Airtel store to carry all the important documents for identification and address proof. These documents include your Aadhar card, driving license along with electricity bill.
When you visit the offline Airtel store the Airtel executive will ask you for your alternative contact number along with the address proof and the UPC code that you have received earlier.
You will also receive the one time password at that moment which will be required for the procedure.
You need To select a recharge plan for your Airtel SIM which will be provided by the Airtel executive in the Airtel store.
The Airtel executive will also give you a form which will include all your personal details such as address, email, phone number, location, house number, Pin code.
After completing all the documentation and other formalities, you need to make the payment for the recharge plan.
When all the formalities are completed it will take up to 48 hours for your vodafone to port to Airtel.
Conclusion :-
I hope this article on how to port Vodafone to airtel helps you and the steps and method mentioned above are easy to follow and implement and in this article we covered an essential guide on how you can port Vodafone to Airtel.