How To Play Spotify On Alexa Without Premium
Last Updated : May 11, 2022
IN - Spotify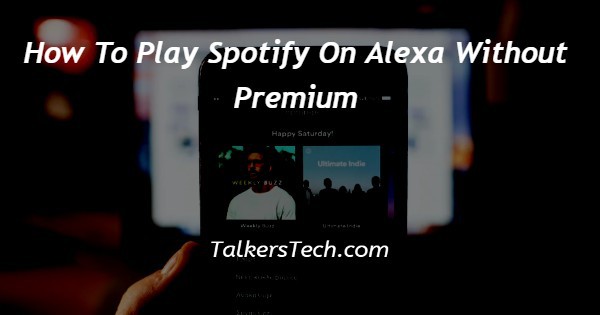 In this article we will show you how to play Spotify on Alexa without premium, Voice assistant devices and apps like Siri, Alexa, etc. have gained tremendous popularity in recent years.
They work on a software that recognizes voices of users and take commands to operate apps and platforms hands-free.
Several voice assistance devices do not support platform like Spotify easily as they want to promote the use of their own platforms.
Alexa Echo, however, has been working closely since 2016 with Spotify to make the latter's users be welcomed graciously on the device.
Since the year 2019, you can use Spotify normally on the Alexa echo without any need of a premium account.
If you are someone who has been wanting to link their Alexa device with Spotify, you have come to the right place.
In this article, we will see how you can achieve just that just follow the step-by-step procedure and you will be done with it in a matter of a few minutes.
Step By Step Guide On How To Play Spotify On Alexa Without Premium :-
Before we start, there are two things that you need to ensure. One is that, you must have the Spotify mobile phone app and the Alexa app downloaded and working on your mobile phone.
In case you do not already have these apps, you need to first head over to Google Playstore and install the above mentioned apps to your device.
The next thing that you need to make sure of is that both the mobile phone and Alexa are connected to an active internet connection.
Once all these things are done, you will need to open your App tray.
This is where all the apps installed in your mobile phone are displayed. From here, click on the 'Alexa' app icon or access it via alexa.amazon.com.
First, you will need to set up Alexa on the app.
Now, click on the 'Music, videos and books' icon. This is located under the Navigation menu.
Now under 'Music' heading, select the 'Spotify' option and follow the prompts to link your account.
It is important to note here that by default, on receiving the command to play a song, the Alexa will open it via Amazon music.
Thus, you will need to set Spotify as the default app for playing music.
To do this, click on the 'Music and media' option under 'Accounts'. This will be located under the Settings in the Navigation menu.
Under the services listed, tap on the 'Choose default music services' icon.
Finally, right below the Default music library, select 'Spotify'.
Conclusion :-
Now you can go ahead and command your Alexa to play music from Spotify seamlessly! This takes the user-experience to a whole new level.
Follow the process and stream music in an all new way and I hope this article on how to play Spotify on Alexa without premium helps you and the steps and method mentioned above are easy to follow and implement.