How To Organize Gmail By Sender
Last Updated : Nov 27, 2021
IN - Gmail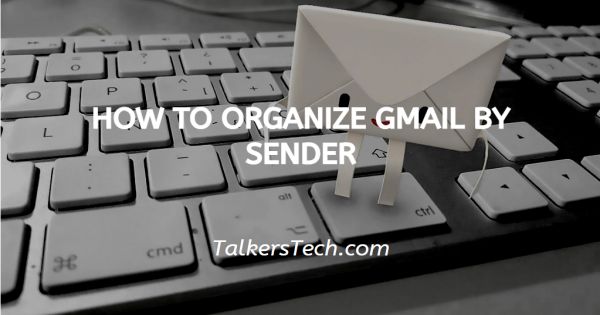 In this article we will show you how to organize Gmail by sender, when you have an active email account, it becomes very hectic because of the regular flow of emails. Because of this constant flow, you can also lose some of your most important emails.
For this Gmail provide various way to search and organize your inbox. One convenient way of not losing some of your most important emails is to organize them and sorting by the sender. Gmail provides various features which help you customize and arrange your inbox.

It helps you to find your emails more quickly and make your inbox more presentable and manageable.

Sorting out the emails from a particular sender assist you in grouping the emails from the specific sender and helps in saving the time for deleting and forwarding the specific email by the sender.
Step By Step Guide On How To Organize Gmail By Sender :-
Open gmail on your device. Make sure you are logged into your account. In case it does not log you into your account simply click sign in and enter your valid email id along with your password.
Now select a particular email from the sender and right-click it.
A drop-down menu will appear on your screen with show various options like- move to tab, reply, forward, archive, delete, mark as read, snooze, add to tasks, move to, label as mute, find emails from, and open in a new window.

Click the option- find emails from.
When you click this option, a list of all the emails will appear on your screen that you have received from this specific sender. It will provide you with the full details of the sender. You can also search a specific email by using the filters that are provided below the search field.

In order to access multiple search criteria, simply click the show search options placed next to the search box.
In this step, you need to paste the email address into the from the field or you can also use the has the words field for a more clear search with the name of the sender you are searching for.
Now click the search button which is placed at the bottom of the popup window.

In gmail, you can easily create the filter for your own convenience by simply clicking the option to create a filter and you can apply this filter for easy searching needs. The option of creating a filter permits you to mark the emails from a specific sender in the future automatically.
Conclusion :-
I hope this article on how to organize Gmail by sender helps you in this article, we covered an essential guide and I hope this article solve your query.