How To Open Apps In Safe Mode Android
Last Updated : Dec 6, 2022
IN - Android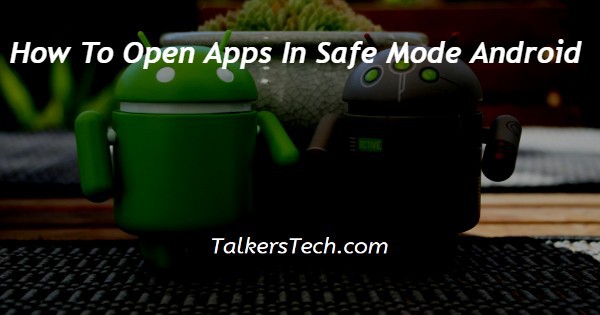 In this article we will show you the solution of how to open apps in safe mode android, when you enable safe mode in Android your device only start with the software and applications that are already installed when you purchased your Android device.
In case the performance of your Android device improve in the safe mode it means that one or another third party application is causing the negative effects to your Android device.
It is very easy to enter and exit in safe mode without causing any issue.
In case you are looking for a solution on how to open app in safe mode Android this is the right article for you just follow the steps given below in order to open application is safe mode Android.
Step By Step Guide On How To Open Apps In Safe Mode Android :-
When your Android device is powered on you need to press and hold down the power key.
Once you hold down the power key for a few moments you will see 4 options placed on your screen called airplane, silent, reboot and power off.
Now you need to press and hold on either the restart or power off option until you get the safe mode popup.
In the popup box it will ask you if you want to reboot to safe mode. It also state that this will disable all the third party application that you have installed. They will be restored when you reboot again.
Now click the option ok placed at the bottom of the reboot to save mode pop up.
In case this method does not work you can also use the second method to put your Android in safe mode.
First you need to switch off your Android device.
Once you switch off your device you need to hold the power button and while the phone is starting a you need to clean the volume down and power button simultaneously.
Make sure you are present both the option simultaneously until you see the manufacturer logo displaying on your screen.
After the reboot a successful your Android device will start working without any third party application.
Whenever you tap on the third party application in the safe mode on your Android device it will show a pop-up informing that the application is not working.
The safe mode watermark is also display at the bottom left corner of the screen with confirm that you are opening application in the safe mode in Android.
Conclusion :-
In this article we covered an essential guide on how you can open application in safe mode Android.
I hope this article on how to open apps in safe mode android helps you and the steps and method mentioned above are easy to follow and implement.