How To Open An Attachment In Gmail
🕐 1 Jan 23
Gmail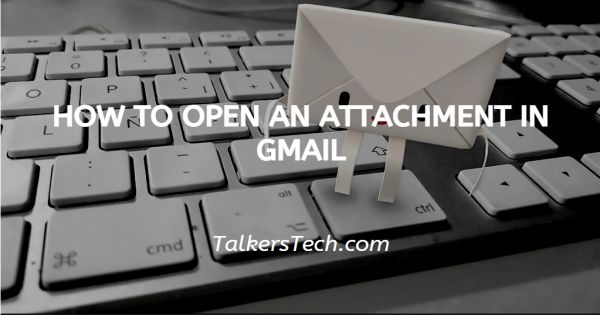 In this article we will show you how to open an attachment in Gmail, an attachment is a document that is sent to you by a sender in a form of an email message. Opening this attachment is very beneficial to read the documents that can be helpful to you in the future.
Sometimes most of the essential documents are sent through the mail as an attachment instead of sending a link or text.

This article will help you know how you can open an attachment in Gmail just follow the step by step guide below.
Step By Step Guide On How To Open An Attachment In Gmail :-
Open Gmail on your pc. In case you are not logged in to your account, simply enter your valid email id along with your password.
Now you need to locate the specific email which includes the attachment that you want to open.
You can also search and attach with the help of label- attachment.
To find an attachment with the help of a label, simply go to the search field placed at the top of the Gmail homepage and type at the attachment.
Gmail will show you the type of attachments below the search field along with other filters.
These attachments include PDF, image, document, video. The filters include- from, anytime, exclude calendar updates, To, and is unread.

Locate your email as per the type of attachment and filter.
As you can see in the picture given below the important information is sent in the form of a PDF attachment.

There are two methods of opening the attachment. The first method is to simply tap the attachment and it will open automatically after loading on your screen.

The second method is to first download it and then open the attachment.
To download the attachment simply click the downward arrow. When your attachment is successfully downloaded, it will appear at the bottom left corner of your screen.

You can also add this attachment to your drive. To you added to drive simply click the drive icon placed next to the downward arrow.
Conclusion :-
I hope this article on how to open an attachment in Gmail helps you in this article, we covered an essential guide and we have also discussed the steps for how you can download and save it to drive for future purposes.

Attachment is a safe way to use them for reference in the future. The steps mentioned above in this article are quite detailed and easy to follow.