How To Monetize YouTube Channel On Mobile
🕐 1 Jul 23
Youtube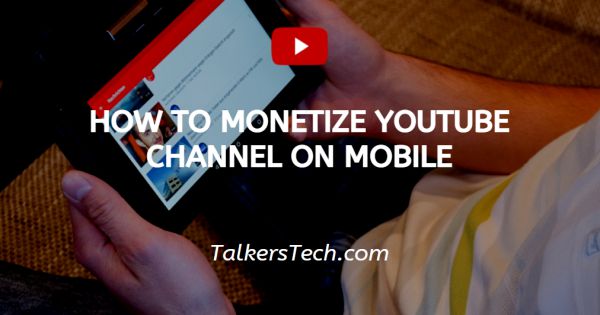 In this article we will show you how to monetize YouTube channel on mobile, YouTube monetization is an essential knowledge that every content creator on YouTube should have. If you want to know how to monetize your content on a mobile, we give you a step-by-step guide on how to do it.
These simple and easy steps will help you earn money from the videos that you post on YouTube.

In 2018, YouTube came up with stricter policies and rules regarding monetization of the videos on their platform.

According to these policies, there are various requirements that one needs to fulfil to make sure that they are eligible for YouTube Partner Program (YPP).

It is only then that one can monetize their videos on the platform. Here are the necessary steps that you need to follow.
Step By Step Guide On How To Monetize YouTube Channel On Mobile :-
To qualify for monetization, your channel has to have at least 4,000 hours of public watch time within the last year and at least 1,000 subscribers. This policy went into effect in 2018 and is another way for YouTube to prioritize watch time (as opposed to view count, which was the platform's previous focus). The platform primary goal is to make sure that users spend as much time as possible on the platform.
Once you achieve the threshold for qualification, open any browser in your phone.
Log into your google account and open YouTube.com. Click on the hamburger menu and select Desktop Site from the menu.
After that, click on the icon of your channel and a menu appears. Click on YouTube Studio.
Your YouTube Studio page will open up and will look like this.
Scroll down on the left side below your channel icon and click on Monetisation.
See if you meet the requirement of 4000 hours of watch-time and 1000 subscribers. If yes, click on Apply Now.
After clicking on that, click on Start in Review Partner Program Terms.
In the pop-up that appears, scroll down and tick the boxes. Then click on Accept Terms.
Create a Google AdSense account by clicking on Start. Log into if you already have an existing one.
Follow all the steps as mentioned on screen and fill every detail that is asked including your name, city, address etc.
Select Ads as your primary technique/ method for monetization. After that your screen will show you your earnings.
Return to the home-screen which would now appear as; showing Done above Sign Up for Google AdSense. It will also show that Get reviewed is In progress. Once it is completed, your account will be monetized.
After the review is done, a message would pop on the screen notifying & congratulating you for being accepted into the YouTube Partner Programme. Your channel is now monetized.
Conclusion :-
So, these are a few simple & easy steps that you need to keep in mind if you want to monetize your YouTube Channel on your mobile phone.

These simple steps can help you understand how you can earn money by various methods on YouTube I hope this article on how to monetize YouTube channel on mobile helps you.