How To Message Seller On Amazon App
🕐 1 Jul 23
Amazon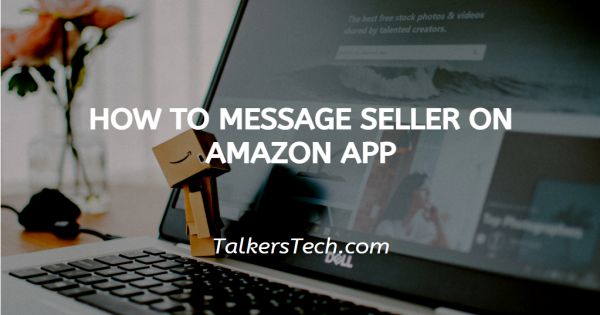 In this article we will show you how to message seller on Amazon app, Amazon is the world's most popular online shopping platform. With its operations all across the globe, it has a gigantic customer base to cater to.
It offers to sell everything under the sun, quite literally Amazon sells products ranging from daily essentials to heavy duty items like electronics, furniture, etc. In the recent years, it has also begun offering various services, software, etc.

Over the years the Company has gained immense popularity and built a relationship of trust with its customers.

It is a platform that connects sellers to a huge market and allows for transactions between the two parties, thus providing services to both.

As a customer, it is common to want to reach out and contact the seller of an item you wish to buy or have already bought. If you are one of them, you have come to the right place.

In this article, we will see how you can message the seller on the Amazon app in just a few easy and quick steps.
Step By Step Guide On How To Message Seller On Amazon App :-
Let us first see how this can be done in cases where the order has already been placed.
The first step is to open your Amazon app on your mobile phone or a laptop or PC.

As soon as you are logged in to your account, click on the 'Account' icon located at the bottom of the page.

This will take you to the next page. Here you will be able to see several options related to your account.
Click on the 'Your Orders' icon to proceed further.

From the list of all the orders, find your order and click on it.
In the next step, you will be required to select problem with order/ Contact seller/ ask a question (depending on the order category). Basis your issue, we will help you contact the seller if necessary.
Follow the steps and message your seller.
In Order To Contact A Seller Before Placing An Order, Follow The Steps Below :-
Choose the seller's name on the product details page or offer listing page.
Next, on the seller details page, choose the 'Ask a question' option. You will be directed to a chat window.
Here, choose the appropriate options in the Seller Messaging Assistant chat and continue.
It is important to note here that it may take about 2-5 days for you to get a response, so be patient!
Conclusion :-
This is how you can contact a seller in your Amazon app. I hope the information provided above helps you and I hope this article on how to message seller on Amazon app helps you.