How To Make Pinterest Dark Mode
Last Updated : Apr 16, 2022
IN - Pinterest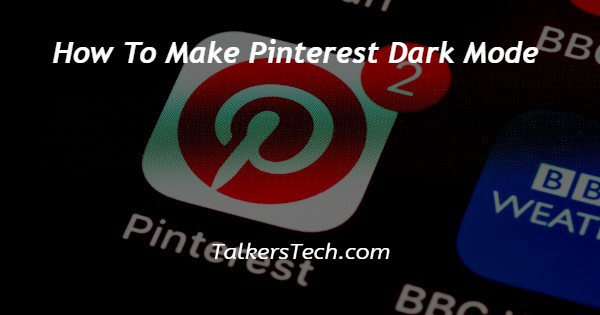 In this article we will show you how to make Pinterest dark mode, the dark mode on Pinterest can make the user interface look amazing. It also helps to scroll easily at night and is less stressful for the eyes.
Some people even claimed that the white background of the Pinterest side is too bright or painful for the eyes. In such cases using the dark mode of interest can be really helpful.
It is a really true game changer and now you can enjoy the benefit of this interactive platform with the help of dark mode.
In case you are looking for a solution on how to make Pinterest dark mode this is the right article for you.
Step By Step Guide On How To Make Pinterest Dark Mode :-
Open the Pinterest application on your Android device.
In case you do not have this application you can simply install it from the Play Store.
Now you need to log in to your account by entering your valid email address and password.
Click the profile icon placed at the bottom right corner of the page.
Now click the three dots placed at the top right corner of the profile.
A drop-down menu will appear on your screen which will show various options for profile such as settings, edit cover, and copy profile link.
Click the options settings from the drop-down menu.
On the next screen you will see various options for personal information, Actions, and support.
Under personal information click the Account setting tab.
Under account settings you can change your email, password, country, gender, age, business type, contact name, login options, claimed account, app theme, app sound, and other account changes.
Look for the app theme and click the arrow place next to it.
A drop-down menu will appear on your screen which will ask you to choose the app theme.
These options are set by battery saver, light and dark.
Now in order to enable dark mode on the Pinterest application you need to select the option dark from the dropdown menu.
As you can see in the picture given below the Pinterest is now turned into dark mode and now, you can easily scroll in this mode.
Conclusion :-
I hope this article on how to make Pinterest dark mode helps you and in this article we covered an essential guide on how you can make sentence dark mode on Android applications and the steps mentioned above are called detailed and easy to follow and implement.