How To Make Outline In Google Docs
🕐 1 Jul 23
Google Docs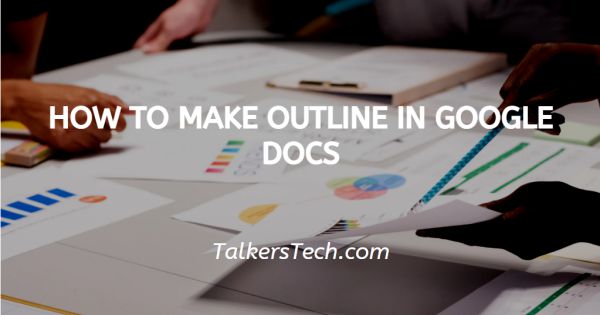 In this article we will show you how to make outline in google docs, long documents in Google Docs can be a tricky task to search in. Google Docs has a tool called outline which helps the user to quickly jump around the document and select the specific section that they require.
The outline tool is a handy feature / Google docs that have the user structure and search the document automatically using the headings of the document.

First, you need to enable the outline tool in Google Docs to move further. Follow the steps below in order to open the Google docs outline tool.
Step By Step Guide On How To Make Outline In Google Docs :-
Open Google Docs & Sign In To Your Account.
Open The Document Where You Want To View The Document Outline.
The menu of google display various tabs- file, edit, view, format, insert, tools, add-ons, and help.
Select The View Tab.
View tab displays various options like print layout, mode, show ruler, show document outline, show equation toolbar, show section breaks, full screen.
Place A Check Mark Next To The Option- Show Document Online.
After clicking this option it displays the outline on the left side of the document.
Now in order to make an outline in Google Docs, you must include titles and headings in your document.
If the document outline is it means that the document does not include any text that is formatted as titles for headings.
Once the user includes the title and subtitle or any type of heading the document outline tool will automatically update.
To include a title or heading to the document outline simply choose the text.
The menu of google display various tabs- file, edit, view, format, insert, tools, add-ons, and help.
Click the format tab.
The format tab includes various options like text, paragraph style, align and indent, columns, line and paragraph spacing, bullets and numbering, header and footer, page number, page orientation, and clear formatting.
Click paragraph style.
The paragraph style includes various options from where you can choose a distinct style like title, subtitle, and headings.

Select the title for heading for any other type of paragraph style you want to use in your document. That text will change as per the paragraph style selected by you.

After including the title heading or any other type of paragraph style the document outline will automatically update.
Conclusion :-
I hope this article on how to make outline in google docs helps you in this article, we covered an essential guide and the steps mentioned above are quite detailed and easy to follow.