How To Make Netflix Full Screen
🕐 1 Jul 23
Netflix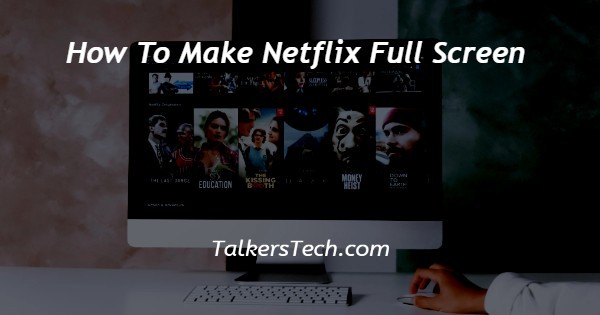 In this article we will show you how to make Netflix full screen, Netflix is one of the world's largest online entertainment services. It was founded by Reed Hastings and Marc Randolph in 1997.
The company provides streaming video content to customers around the globe. Its library includes thousands of titles ranging from popular television series to documentaries, action films, and comedy specials.
To access Netflix, you must first download the free Netflix app. Once installed, open the app and sign in to your account using your email address and password. You can also create a new account if you haven't yet signed in.
Once logged in, you'll be able to browse the catalogue of more than 100,000 movies and TV episodes.
You can search for specific titles by typing keywords into the search bar or clicking on the "Browse" button to see what's available.
Using your Netflix account is very convenient on any device. You can use it on your iPad, iPhone, TV, etc.
The app automatically allows you to continue watching the active streaming on a smaller screen when you come out of the app to reply to a chat on WhatsApp, or check a mail, or set an alarm, etc.
Now, if you wish to bring back the screen to a full-size, you can follow the methods explained below.
Step By Step Guide On How To Make Netflix Full Screen :-
The first thing you can do is to access the App tray and click on the Netflix app. This will automatically take you to the Netflix app, and the video will resume playing in full-screen mode.
The next method you can use is to simply click on the small window playing on your mobile screen.
As soon as you tap on it, I will expand and in the centre of the window, you will be able to see the 'Full-screen' option.
As soon as you click on this icon, your video will expand and will be displayed in full-screen size.
To make the screen even bigger, you can use your index and middle finger to zoom in a little more. All you have to do is place the two fingers on the screen and slide them in the opposite directions.
This will remove any black lines or gaps around the video playing.
To retract the screen, simply reverse the above-mentioned action.
All you need to do is slide the fingers towards each other. This will retract the screen size and you will be able to see the black lines above and below the screen.
Make sure you have enabled full-screen settings in your app.
Moreover, if the methods do not work, you may need to refresh the app.
Conclusion :-
This is how you can get full-size screens on Netflix. I hope this article on how to make Netflix full screen helps you and the steps and method mentioned above are easy to follow and implement.