How To Make A Poster On Google Docs
Last Updated : Mar 7, 2022
IN - Google Docs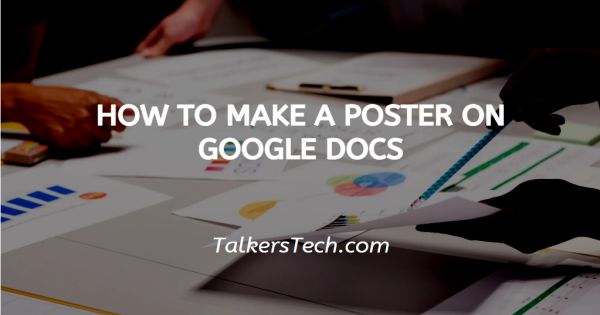 In this article we will show you how to make a poster on google docs, Google docs is one of the most superior and easy to use tools for creating documents. It has a wide range of features and tools that allow the users to create files that are extremely well-structured, wholesome.
It contains several features that allow you to add images, videos, tables, different types of fonts, highlighting colors, etc.

Posters are a great way to attract the attention of people. It's easy and creative representation of the cause helps spread awareness and information using graphical and visual means that are easier to understand and retain.

Google docs allows you to make posters in the document instead of simply copying a dull and boring image.

If you are interested in knowing how it is done, keep reading. In this article, we will see how you can make posters in Google docs. Follow the steps as explained in the points below and you will be done in no time!
Step By Step Guide On How To Make A Poster On Google Docs :-
Open your laptop, PC or mobile phone. Now there are two ways to open Google docs.
One way is to access it via the Drive. In the alternate case, you can click on the 'Grid' icon at the top right corner of the home page of Google web browser.

In the next step, you will be asked to either open a blank document or a pre-existing one.

Select the 'Insert' tab located at the top of the page. This will automatically launch a drop-down menu. From here, select 'Drawing' and click on the '+New' icon to open the drawing sheet.

This will open a new smaller window on your screen.
In the next step, taking the help of the tools available in the drawing sheet,you may start designing the poster. Access the 'Shapes' icon by clicking on it and choose the rectangle shape. To proceed ahead, add a large rectangle on your page.

In this step, you will be required to add text in the rectangle. With the help of a wide range of different formatting tools, you will be able to modify or alter the style, size, color, background, and alignment.
To make your poster even more impactful and effective, you can also consider adding images. To do this, you will need to click on the 'Insert' tab again and click on the 'Image' icon and choose the image from its location on your device, drive, etc.
Finally, click on the 'Save and close' icon located at the right top corner of the drawing sheet.
Conclusion :-
I hope this article on how to make a poster on google docs helps you and the step and methods mentioned above are easy to follow and implement.