How To Logout Flipkart Account From All Devices
Last Updated : Sep 29, 2021
IN - Flipkart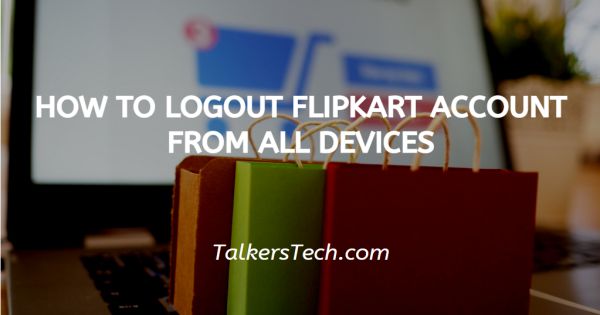 In this article we will show you how to logout Flipkart account from all devices, with the ever-rising numbers of cyber-crimes and hacking, it is imperative that we, as consumers of the digital market, keep our security strict and update our privacy settings from time-to-time.
It is an undisputable fact that social media shopping platforms like Amazon, Flipkart, Myntra, etc. allow its users to enjoy great levels of flexibility when it comes to accessing the platform.

Once you have registered yourself and created an account, you can simply log in using your laptop or PC also, in addition to your mobile app.

Flipkart is one of India's most popular and well-connected digital shopping apps that offer a wide variety of products, starting from daily basics and clothes to electronics, furniture, etc.

You can access Flipkart via the app or go to their website.

However, there are times when this can prove to be a threat to your security.

Now, logging out of all the devices you use to access the app is extremely cumbersome and time-consuming.

Hence, the company provides its users with the option to log out of all devices in just a single click of the mouse. In this article, we will discuss how this can be achieved.
Step By Step Guide On How To Logout Flipkart Account From All Devices :-
Unlock your mobile phone and go to the App tray. From the grid, scroll down and click on the 'Flipkart' app icon.

This will either ask for your log in details, or will directly open the home page displaying the latest deals and offers, etc.
On the top left corner of the page, you will see the 'Menu' icon depicted by three horizontal lines. Click on this icon.

This will open a list of various options like categories, My orders, etc. Bring your cursor to the 'My account' option and top on it.

Once you do that, you will be able to see a list of various headings and information like payment methods, orders, name, etc.
Scroll down to the end of the page. Here, you will be able to see four options. From this, click on the 'Log out of all devices' icon.

As soon as you do this, you will be prompted by a pop-up message asking you to confirm your action. If you are sure, click on the 'Yes'icon.

Finally, you will be brought back to the home page of the Flipkart mobile app.
At the bottom of the page, you will see a pop-up notification informing you about the success of the process.
Conclusion :-
I hope this article on how to logout Flipkart account from all devices helps you.