How To Login Zomato With Phone Number
🕐 9 Apr 23
Zomato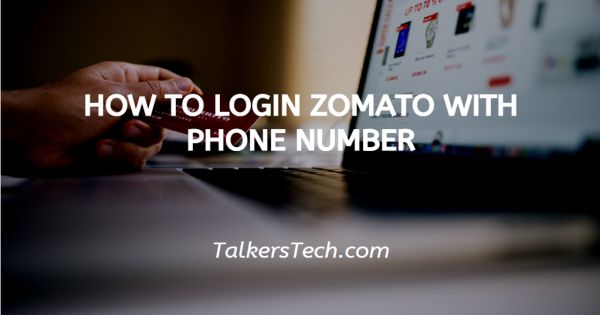 In this article we will show you how to login Zomato with phone number, if You have not used Zomato yet and now are thinking of ordering food from Zomato and you don't know how to start it.
You can access Zomato either by downloading the Zomato Mobile App and also by visiting the official website of Zomato.

In Zomato Application you can Login or Sign Up using your Email Id or your Mobile Number. If you have a Zomato account already then also adding a phone number to your account is important in order to verify OTP easily and there may be other reasons also.

If you are a new Zomato user and looking for a method or technique to Login Zomato with a Phone number, you are in the right place.
Step By Step Guide On How To Login Zomato With Phone Number :-
In this article, I will guide you on the way to Login Zomato with a Phone number. Either you are a new user or you have been using it already. So, Focus on the following steps.
Open Google Play Store on your smartphone or if you want to open the official site of Zomato, then open any web browser.

Now, type "Zomato" in the search of Google Play Store and tap on the search button as shown in the screenshot given below or open it by searching the official site of Zomato in the web browser. https://www.zomato.com

When the results appear, click on Install Button to download the Application to your Smartphone.

Once the download is completed successfully, Tap on 'Open' or you can also open it from your home screen as shown in the screenshot given below.

Now, enter your phone number and then click on 'Send OTP' as shown in the screenshot given below. (Zomato also provides you the options to Login using your Facebook & Google Account).

Then, you will be asked to allow location permission and link an email to your Zomato account. After completing all these processes, you will get an interface which is the homepage of Zomato and now you can place your order.
If you want to change your phone number in a Zomato account, you can simply do it by opening 'Settings' in the Zomato Application. Open 'Settings' & then click on 'Edit Profile'
Conclusion :-
So guys, these are the very simple and easy steps through which you can Login your Zomato Account with a Phone Number. I hope this article on how to login Zomato with phone number helps you.