How To Login Paytm
🕐 21 Feb 23
Paytm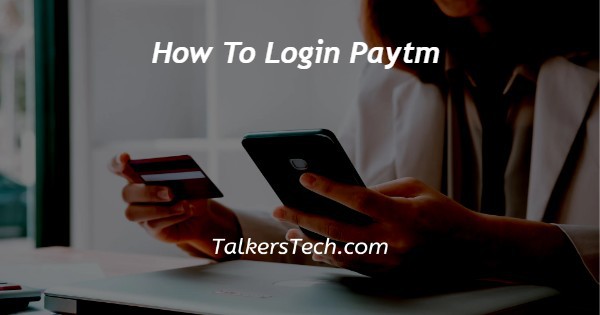 In this article we will show you the solution of how to login Paytm, Paytm is one of the top rank and largest shopping hubs; it provides an enormous range of services including bus tickets, movie tickets, mobile recharge and other.
You can easily login to Paytm by using a mobile application available for Android and iOS devices as well as its official website.
When you login to Paytm it requires certain security verification such as a one-time password.
Once you log into your Paytm account you can also check your account with the help of screen lock in order to protect it from unauthorized access.
In case you are looking for a solution on how to login to Paytm this is the right article for you just follow the steps given below in order to log in Paytm.
Step By Step Guide On How To Login Paytm :-
Open Google Play Store on your Android device.
In the search bar type Paytm.
Click the option to install and open the application to proceed further.
Once you open the application it will ask you to login or create a new account by entering your mobile number.
At the top of the login page you will also see the option of change language and skip.
If you click the escape option you can still login to your Paytm account by simply going to your profile I can placed at the top left corner of the screen.
On the next screen it will ask you to login to continue in order to unlock the full Paytm experience.
Click the option login to continue.
On the next screen it will ask you to login with Paytm by using your mobile number.
Once you enter your mobile number it also ask you for the permission to make and manage phone calls.
Press allow to proceed further.
Another popup box will appear on a screen which will ask you to send and view SMS messages.
Again press the option allow placed at the bottom of the popup box.
Once the verification is done successfully it will automatically send you an SMS with information that Paytm login detected from a new device showing the time and date.
Once you login to Paytm account it will provide you various options such as linking your bank account with which you can also skip by clicking the skip option placed at the top right corner of the screen.
In this way you can easily login to Paytm and enjoy its benefits.
Conclusion :-
In this article we covered an essential guide on how you can log in Paytm by using your mobile number on an Android device.
I hope this article on how to login Paytm helps you and the steps and method mentioned above are easy to follow and implement.