How To Log Out Of Netflix On LG TV
🕐 1 Jul 23
Netflix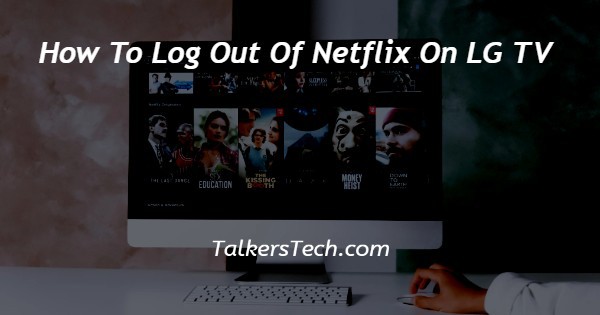 In this article we will show you how to log out of Netflix on LG TV, Netflix is one of the most popular teaching platforms used by various users across the globe. Netflix is available on every device including PC, mobile devices, and smart TV.
With the help of Netflix subscription users can watch a variety of series movies as long as they want. Once you enter your details and create a Netflix account, it keeps you signed in and remembers all the entered details.
However, there can be Various reasons for signing out of Netflix on your LG TV. Perhaps some anonymous user is trying to login, or the user is selling the TV.
In case you are looking for a solution on how to log out of Netflix on LG TV, this is the right article for you.
Step By Step Guide On How To Log Out Of Netflix On LG TV :-
Open Netflix application on your LG smart TV.
Now with the help of your remote control you need to clean the left button in order to open the menu option.
The left panel will show various options named search, home, play something, news and popular, TV shows, movies, my list, get help and exit Netflix.
Select the option- get help by pressing down the button until it is highlighted.
Press the select option.
The get help screen will show various options named member, network, device, contact us, check your network, reload Netflix, exit Netflix, sign out, profile name, Account email and country or language.
Select the option sign out.
You need to press enter again.
A pop-up box will appear on your screen which will ask you to confirm that you want to sign out.
Press the option yes to sign out of Netflix on LG TV.
Again, press the enter button and now the Netflix application will log out your signed in account.
The Netflix Log out procedure is completed when the application goes back to the login page or homepage.
Conclusion :-
I hope this article on how to log out of Netflix on LG TV helps you in this article we covered an essential guide and the steps mentioned above are called detailed and easy-to-follow.
I hope this article solves your query. The option- get help can Also be visible as settings depending on the TV model in which it signed the Netflix account in.
In case your Netflix app is not working and you cannot see any of the menu options try to re-install the application.