How To Leave A Group On Facebook All At Once
Last Updated : Sep 4, 2021
IN - Facebook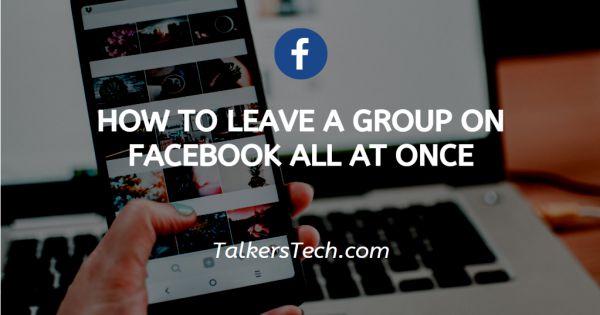 In this article we will show you how to leave a group on Facebook all at once, Facebook is a community big enough to have different people with different interests of artists, opinions, bands, ideologies, communities, countries, and so many more things.
It is very evident that these people will come up with the plan to make a club or group of their common interest and invite people to be a part of it. Just like Whatsapp, Facebook also provides this feature to people and come together.

This was a feature of Facebook for years and it is no doubt that other social media platforms decided to put this feature in their particular platform. But people grow old, they learn and unlearn things about their life, they change their interests and look forward to new possibilities and interests.

And when they do so, they tend to forget to leave the groups or clubs and continue to stay in them without their consciousness.

We know that we all do so and at one point of life when we realize that we are following or are a part of such groups, we decide to leave them permanently and instantly.

We know you also want to do the same but are unable to do so because the interfaces of platforms have changed and it is hard to locate where to go exactly. But don't worry, we got the solution to your problem.

As always we are again back with a new way to solve a new problem. We know it is not easy to cope up with the fast moving technology and frequently changing user interfaces o social media platforms. We will learn how to leave group on Facebook all at once.
Step By Step Guide On How To Leave A Group On Facebook All At Once :-
Log in to your Facebook account with the help of your Mobile Number or Email address and Password.

Go to your main profile and click on the "Menu".

Under the Menu section you will find a lot of options and pages to go to. You are supposed to search and click on "Groups"

The option will take you to a new page with everything related to Facebook Groups. In the left corner of your screen, you will be able to see a portion where "Groups you've joined" will be written.

Search among the options the group you want to leave and click on it.

On the right corner of the page, right under the option of Invite, you will find 3 dots like this, " ". You have to click on it and option will appear in front of you. Click on the option "Leave Group" that is in the bottom of all the options.

A warning will appear in front of you asking "Are you sure?" Click on the blue option "Leave Group" and at once you be out of the group.
Conclusion :-
This is how you can leave all Facebook groups all at once, I hope this article on how to leave a group on Facebook all at once helps you.