How To Kick Someone Off Netflix While They Are Watching
🕐 1 Jan 23
Netflix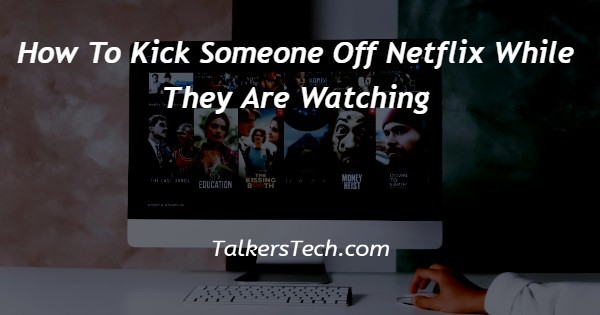 In this article we will show you how to kick someone off Netflix while they are watching, Netflix is one of the most popular entertainment streaming platforms full of great movies, TV shows and specials.
People all the time share their Netflix account with their friends and family so that they can also have access without paying the subscription plan. Sometimes the login sharing of the Netflix account creates multiple user profiles, and it hampers the watch history of Netflix content.
Netflix does not allow the user to log out of each device individually. However, if you want to kick someone out of Netflix while they are watching you need to simply log out from all the devices.
In order to change the network setting it works better on a computer web browser or desktop PC.
Step By Step Guide On How To Kick Someone Off Netflix While They Are Watching :-
open Netflix on your PC.
In case it does not log you into your account, enter your credentials to open your Netflix account.
After successfully login to your account, select The three dots placed at the top of the Netflix homepage.
in a downward menu it will show two options: name settings and Sign out.
click the options- settings from the drop-down menu.
Another pop-up box will appear on your screen which will show various options related to your profile named Account, downloads And about this app.
Look for the account details placed under the account section.
The Netflix application does not allow the user to change the settings within the application and will redirect the user to a web browser for further settings.
The browser version of Netflix will show various options for membership and billing, Plan details, settings,Profile and parental controls
Look for the settings option.
click the option- sign out of all devices. Now Netflix will automatically sign out of all devices and will kick the person of Netflix while they are watching.
A pop-up box will appear on your screen which will inform you that signing out of all the devices can take up to eight hours to take effect on all devices and affect all the profiles in your Netflix account.
It will ask the user to confirm the process if they want to sign out of this Netflix account on all the devices.
Select the option sign out placed at the bottom of the pop-up box.
If you haven't shared your Netflix password with anyone, you can clearly watch the Netflix account on your own without sharing it with others.
Conclusion :-
I hope this article on how to kick someone off Netflix while they are watching helps you and in this article we covered an essential guide and the steps and method mentioned above are easy to follow and implement.