How To Join Truecaller Chat
Last Updated : May 16, 2022
IN - Truecaller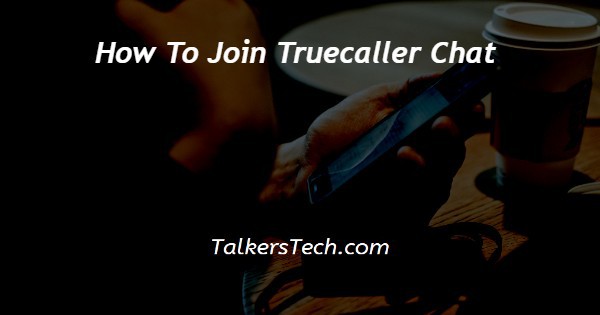 In this article we will show you how to join Truecaller chat, the Truecaller chat feature helps the users to chat with their friends and family and it utilizes the users data connection instead of SMS users can easily share the emojis along with the attachment including gif , document, video, contact and location.
Truecaller chat also helps the users to identify your website as spam if they find it to have inappropriate information. Truecaller chat provides the feature of integration between SMS and chat.
All the messages that are sent between the Truecaller users will be managed within the application while the charts and the known user will be sent as SMS.
In case you are looking for a solution on how to join Truecaller chat this is the right article for you just follow the steps given below in order to join Truecaller chat.
Step By Step Guide On How To Join Truecaller Chat :-
Open Play Store on your Android device.
In the search bar enter the Truecaller application In order to install it on your device.
After successfully Installing Truecaller application on an android device, the app will send an sms for the verification of the number.
At the bottom of your screen you will see 5 tabs named calls, messages, contacts , premium and blocking.
Click the option contacts placed at the bottom center of the screen.
Now the Truecaller will display all the saved and identified numbers in your smartphone.
You need to search for the specific contact For which you want to join the Truecaller chat.
You need to make sure that this option will be placed only for the Truecaller users.
If the Truecaller application is not installed by the other contract user then only the SMS option will be available in the message field.
If the person has installed the Truecaller application it will include a Truecaller symbol at the top of the circle icon next to the contact name.
In this way you can easily identify with whom you can join the Truecaller chat.
Clicking the contact name you will see a few details such as the option for calling message voice and block.
Now click the message option.
Now here you can easily chat for free and can send emojis along with other attachments such as document video, contact and location.
The Truecaller application also provides the option for voice chat in the Truecaller chat.
Conclusion :-
I hope this article on how to join Truecaller chat helps you and in this article we covered an essential guide on how you can join truecaller chat on an Android device.
We have also discussed the features offered by Truecaller chat for the Truecaller users. The steps mentioned above are quite detailed and easy to follow and implement.