How To Insert Picture In Word Without Moving Text
Last Updated : Nov 29, 2021
IN - Microsoft Word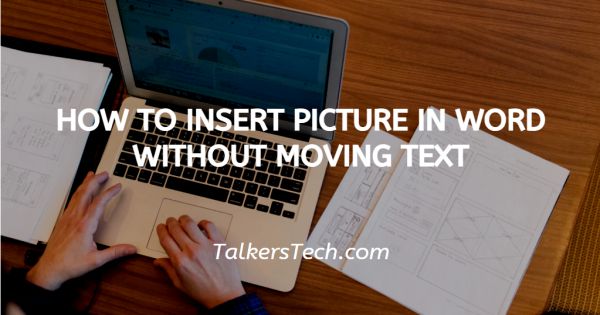 In this article we will show you how to insert picture in word without moving text, MS Word provides you with a lot of powerful features that you can use to make your document look more presentable.
Word has a solution for inserting a picture in your document without moving text. In this article, we will discuss this useful Microsoft Word trick with which you can make your document look more organized and creative.

Most of the users just put images into their Word document between the paragraph. This is one of the simplest methods to put images in your document.

In case you figure out how to insert a picture without moving text it will be easier to format your complete document
Step By Step Guide On How To Insert Picture In Word Without Moving Text :-
Open MS Word in your system.
Select the document where you want to insert a picture without moving text.
If you choose the option- insert from the toolbar and place a picture in the middle of the paragraph all the text will shift abruptly and ruin the whole format of the document. Sometimes the text also gets distorted when you drag the image around.
To solve this issue, you need to select the image. You will see a square at the top right corner of the image.
Click this square and a drop-down menu of layout options will appear on your screen.
Another method of accessing the layout option is to simply click the image and select wrap text which is provided under the format Tab.

By default, MS Word provides you the option- inline with text. In the drop-down menu, there is also the option- with text wrapping. This option provides you with 6 choices where you can easily format your image and text at your own convenience. The six formats under the text writing option are- square, tight, through, top and bottom, behind the text, and in front of the text.
In order to insert and swing the picture without moving the text, you can use any format from square, tight, or through. The format of tight and through works best when the pictures have a clear background.
When you click the option of tight the text will move around the picture and will also confirm its shape.

When you click the format of through, the text will automatically fill in any of the white spaces present in the picture itself.
Conclusion :-
I hope this article on how to insert picture in word without moving text helps you in this article, we covered an essential guide and I hope this article solves your query.