How To Indent A Paragraph On Google Docs App
Last Updated : Mar 10, 2022
IN - Google Docs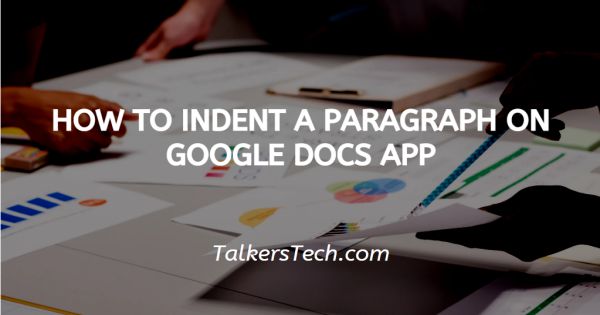 In this article we will show you how to indent a paragraph on google docs app, Google docs is a tool used by professionals all over the world. It is used by teachers to assign projects, make reports, etc. It is used by students as well.
Most of the corporate houses use Google docs to make official documents, presentations, etc.

It allows you to make your document wholesome and professional with the help of its various features and tools like the option to add text, images, etc.

In today's world where you need Google docs for everything, several people have downloaded the Google docs app in their mobile phone devices. What this essentially does is help users access and create documents on the go.

There are several reasons and events where you would need to indent a paragraph on Google docs, and if you are someone who wants to know how this can be done, you have come to the right place.

In this article, we will see how you can indent a paragraph in Google docs in just a few quick and easy steps. Follow the step-by-step procedure as explained below.
Step By Step Guide On How To Indent A Paragraph On Google Docs App :-
On your mobile phone, unlock the lock screen to go to your home page.
Swipe up on the screen to access the Apps tray. This is where you will be able to see all the apps in your phone organized alphabetically in a grid.
From here, click on the 'Google docs' app. In case you don't already have the app, download it from the Playstore on your phone.

Once you open the app and log into your Google account, you will be taken to the homepage of Google docs.
Here you can either open a new blank document or a pre-existing one.

Now bring the cursor to the starting of the text that you wish to indent in your document.
From the panel at the top of the screen, click on the 'A' icon.

This will open a menu from the bottom of the page containing several options.
Here, there will be two headings, Text and paragraph.
Choose the 'Paragraph' heading.
Under this, make sure the text is centre structured.
Now, click on the indent to the right icon just below it.
Keep doing this till the placement looks appropriate to you.
If you wish to move the text to the other side, left, simply click on the indent to the left icon just opposite the right indent icon.

This is how you can indent the text to any side, once you are done, click on the 'Tick' icon at the top of the page.
Conclusion :-
This is how you can indent on Google docs app I hope this article on how to indent a paragraph on google docs app helps you and the steps and method mentioned above are easy to follow and implement.