How To Identify Fake WhatsApp Number
Last Updated : Apr 6, 2021
IN - Whatsapp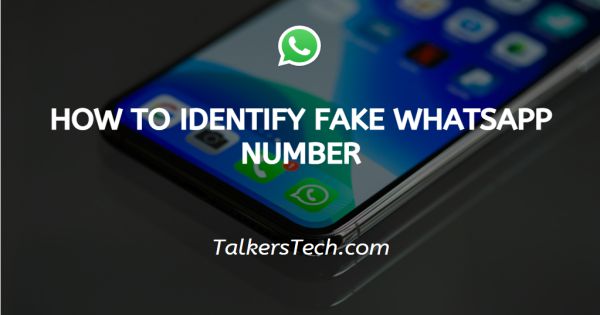 In this article we will show you how to identify fake WhatsApp number, nowadays using fake numbers on WhatsApp has become something like a new trend in the social media field. It is very easy to create a fake number profile on WhatsApp.
People are using this method in the wrong way. This is where social media fails, the number of fake accounts on WhatsApp is increasing rapidly. This has to stop or we have to be more cautious about it.

You guys must have thought that it would have been great if you would have to know the tricks to know whether the number is fake or not.

What if we will tell you we have some tricks for this.

Yes, you heard it right.
Step By Step Guide On How To Identify Fake WhatsApp Number :-
The first thing you have to keep in mind is that you have to identify a spoofed number. Spoof numbers are very trendy these days, so whenever you get a message from a number that looks like from the US or weird beware of that number, it may be fake.
If you get a message by a number that is starting from +1 and looks very weird then it will surely a fake number because that number is created with voxox application.
If you get a message from the number which is starting from +44 then these numbers are also fake for sure, they are also made from such applications. Beware of these numbers.
Check the display picture and status of that number, if you get a message from a weird number and the display picture is also of a cartoon of scenery and in the status, it is written as "hey there I am using WhatsApp" then there are high chances of fake number.
Conclusion :-
Identifying a fake WhatsApp number is really not that easy, you must be careful while talking to anyone who is new to you. We recommend you do not share any of your personal details with a number that you feel is fake or not safe.

People are becoming so smart day by day. Technology is increasing and so as the minds of evils. You have to be more careful about this fact.

Not only on WhatsApp as a social media platform there are many other platforms like a Facebook, Instagram, telegram that people use as fake. You have to be extra careful about these tricks which people are going to play with you.

So guys these were some simple and easy steps all you have to do is keeping all these points in your mind before chatting with an unknown and weird number. I hope this article on how to identify fake WhatsApp number helps you.