How To Hide WhatsApp Online Status While Chatting
Last Updated : Dec 26, 2020
IN - Whatsapp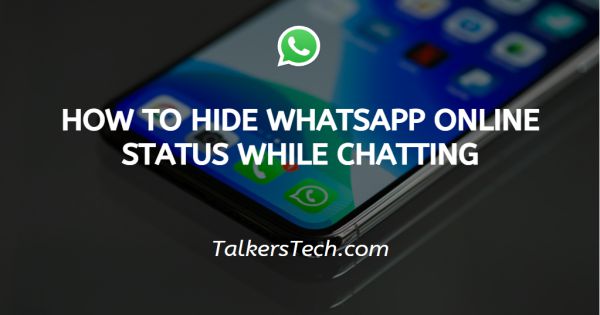 In this article we will show you how to hide WhatsApp online status while chatting, WhatsApp the global leading social-media application provides many features. Amazing features like use of way too many stickers, use of gif's, use of emojis to enrich and smoothen the texting experience between the 2 contacts.
WhatsApp provides us end-to end encryption for chat and people can share anything on WhatsApp without any fear of cyber-criminal activity. The data is not stored anywhere on the WhatsApp servers.

Everybody knows that WhatsApp has a feature which shows the last seen of a contact but some people turn it OFF because they do not want people to know about their last seen on WhatsApp. This turns OFF the last seen but as soon as you will come back online it will show online. What if you are chatting with someone and want to show offline while chatting?

In this article we will tell how you can show offline while chatting on WhatsApp. You might want to do this when you want nobody to see you online while texting including your parents, relatives or friends.

For providing privacy options WhatsApp is good too, like in WhatsApp status we have three levels of WhatsApp privacy :-
My Contacts (In this all the contacts of mine will be able to see my WhatsApp status).
My contacts except (In this you can select who can see your status. If you do not want an individual to see your status then tick on their name in this option.)
Only share with (In this you can select who can see your status. If you want someone to view your status then click against their name in this option.)
Step By Step Guide On How To Hide WhatsApp Online Status While Chatting :-
First Method
When you get a new message on WhatsApp, you get a notification.
Do not slide away the notification.
Reply from the notification for every text.
By this way nobody will know that you are chatting.
Second Method
You have to download an application from google chrome as APK because it is no longer available on google play store.
Search for 'Hidden Chat For WhatsApp'.
Download the APK, install the APK.
For assist, picture of the logo of the application is marked in the picture attached below.

Now open it and allow all the permissions it asks for.
Now go to contacts.

Search for a contact with which you want to chat.

Now tap at it and you can text. Here you will be able to text without any worry.
Conclusion :-
Both the ways are legit and free you can do both of the things and it will help you to reach your goal either way. I hope this article on how to hide WhatsApp online status while chatting helps you.