How To Hide WhatsApp Icon
Last Updated : Dec 26, 2020
IN - Whatsapp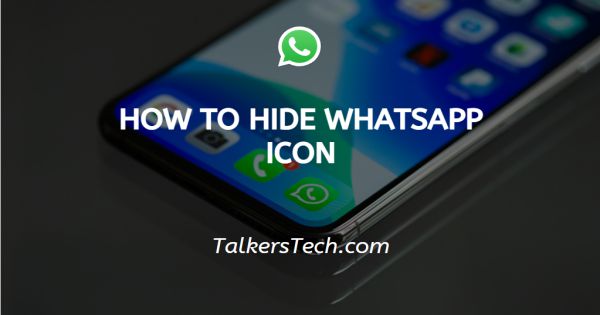 In this article we will show you how to hide WhatsApp icon, In social media, privacy is a main concern because cyber criminals are all over the world. Cyber criminals can do really evil stuff to people. Social media has provided their levels of security of privacy.
Maybe we can save our stuff from cyber criminals but what about our parents or siblings. Our social media account contains really private stuff and we wish that nobody could get access to that.

Most of the private stuff of ours is in texting, and the most successful texting application is WhatsApp. WhatsApp is successful as it provides many features and reliability too. We really like those things. It also provides us end-to-end encryption for our chats, that means it is safe from cyber criminals too.

In this article we will tell you how you can hide WhatsApp icon in your smart-phone device. Not showing our phone devices is not an option because in case of emergency we have to do it and still make sure that our WhatsApp's texts exchanged between various contacts is secure.

So for that you can hide the WhatsApp icon and if someone can't even see your WhatsApp icon, how will they access your WhatsApp icon?
Step By Step Guide On How To Hide WhatsApp Icon :-
You need a third-party application for this purpose.
Go to Google play store and search for 'Apex Launcher'.
For assist, picture of the logo is mentioned in the picture below.

After downloading it and installing it allow all the permissions It asks for.
Now on your home screen, you will find Apex setting, tap at it.
For assist, picture of Apex setting is marked in the picture mentioned below.

Now scroll down till you find the option 'Hidden Apps', tap at it.

There you will find an option of 'Add Hidden Apps', tap at it.

There search for WhatsApp and then save it.

WhatsApp application is hidden now.
Conclusion :-
Now you can hide any application's icon in your smart-phone device and can take your privacy to another level. I hope this article on how to hide WhatsApp icon helps you.