How To Hide Columns In Excel With Plus Sign
🕐 1 Jul 23
Microsoft Excel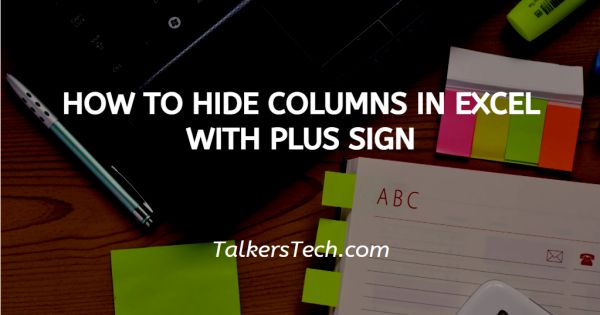 In this article we will show you how to hide columns in excel with plus sign, to master Microsoft Excel, you need to know the tricks and shortcuts to use it. There are many different ways to do similar work on Excel.
If you know the easiest way of doing a job on Excel using certain shortcuts, you can easily master Excel.

In the current job market, it is an important criteria for candidates to know how to use Excel. It is because most of the business work is done on Excel.

It is an integral part of the business System. Excel provides good flexibility and compatibility across all devices and operating systems. It also provides good number crunching powers.

In this article, we will have a look at the steps to hide Excel columns with a plus sign.
Step By Step Guide On How To Hide Columns In Excel With Plus Sign :-
At first open the respective excel workbook in your desktop.
Then, select the entries row or column that you want to hide or unhide with a plus or minus sign.

Click on the Data option which is placed at the top of your excel screen.
And then, click group in the outline group under data tab. It will display the minus sign on the left of selected rows or at the top of selected columns.
Click the minus sign. It hides the selected rows and columns immediately.

Click the plus sign. It will unhide the hidden rows or columns.

Save the changes made. Else you will lose the entire information.
And then, you can exit the application.
Tips: If you want to remove the plus or minus sign then just click on the ungroup button under the data tab.
Conclusion :-
If you follow the above steps then you can easily hide columns in Excel with a plus/minus sign. MS Excel has a simple interface that can be used and understood by everyone.

It helps users calculate, visualize and organize quantitative data. Moreover, it helps senior management keep track of the important information for making decisions.

Thus, Excel is one of the most important computer programs in workplaces. It is entrenched in business processes like analysis of stocks, budgeting or organizing, etc.

Knowing Excel opens up a lot of opportunities for job seekers. It adds weightage to your resume and helps you secure jobs.

I hope this article on how to hide columns in excel with plus sign helps you to hide columns with a plus sign by following the above given step by step guidelines properly.