How To Get WhatsApp Verification Code By Email
🕐 9 Apr 23
WhatsApp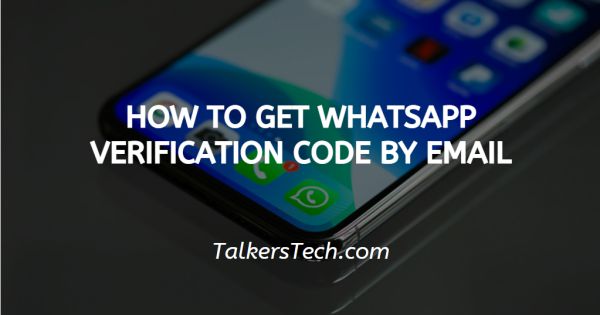 In this article we will show show you how to get WhatsApp verification code by email, WhatsApp continues to bring many new updates and features for better user experience. Using WhatsApp, it is possible to send all kinds of alerts such as GIFs, stickers, photos and videos.
It is also possible to make calls and videos using WhatsApp. There are many tricks regarding WhatsApp that regular users are unaware of.

So we will try to explain it to you. One of the tricks that is yet to be discovered regarding WhatsApp is the way to get verification code by email.

There are circumstances where getting the verification code on the SMS is not possible. For that reason one must know the steps to get the WhatsApp verification code on email. The steps are as follow.
Step By Step Guide On How To Get WhatsApp Verification Code By Email :-
Install WhatsApp on your mobile phone be it android or iOS.
Click on "agree and continue" to accept the privacy policy of the application.

Then, activate airplane mode on your mobile phone.

Once you have activated the airplane mode, all the applications will be blocked. So you won't receive a notification when you are off-the network.
Just turn on the wifi before entering the phone number on WhatsApp for verification. You can put the number you want but you won't get any messages. Rather you will have to wait for 2 mins or so.

Once the waiting period is over, WhatsApp will give you the option of validation through email. So you can use the same email account that you use to make backups of your WhatsApp chats.
Go to your email application.
Copy the code from the verification email.
Paste it on the WhatsApp verification page. Your account get verified using the code you get in your email.
You can now start using WhatsApp for communication.
Conclusion :-
If you follow this process then you will get your WhatsApp verification code by email. It is not the normal verification process of WhatsApp.

So, there are chances that you won't see your previous chats on the app. It will all be empty once you enter WhatsApp.

There are numerous situations in which you won't be able to get the verification code on your mobile number.

Suppose you are somewhere abroad and your SIM card does not support roaming facilities. You will need to use email for verification then.

Thereby, it is important to know this trick for future reference. You can also help out other people stuck in a situation where they have to use email for WhatsApp verification.

Just have some patience and get going with the above steps. It will definitely work in getting the verification done using email. I hope this article on how to get WhatsApp verification code by email helps you