How To Get Voice Typing On Google Docs
🕐 1 Jul 23
Google Docs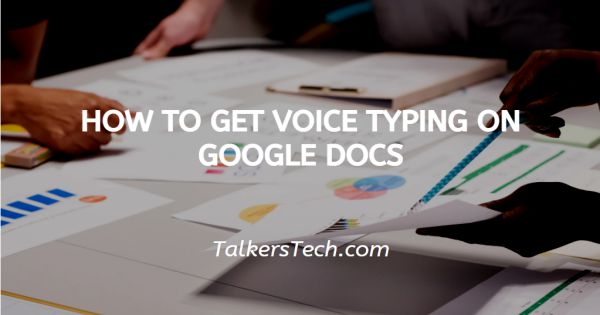 In this article we will show you how to get voice typing on google docs, in Case you have to work regularly on Google Docs then you need to spend a few are on this application for typing. Some people are not quick at typing and it makes them feel tired to even use the keyboard.
Here, Google Docs provides you with the voice typing feature. with the help of this feature, you can use your voice to give commands to your device and type whatever you want to speak.

When you dictate your document using voice typing it saves a lot of your time and you can also include commerce question marks and others through voice typing.
Step By Step Guide On How To Get Voice Typing On Google Docs :-
Open Google Docs on your PC.
Make sure you are logged in to your account.
In case it does not log you into your account simply enter your valid email id along with your password.
In case you want to create a new document, click blank in order to use voice typing on Google docs.
You can also use the existing documents in order to use the voice typing feature of Google docs.
The menu of Google Doc Show various tabs including file, edit, view insert format tools addon, and help.
Click the Tools tab from the top menu.
A drop-down list will appear on your screen which will show various options including spelling and grammar, word count, the review suggested edits, Citations, linked object, dictionary, translate the document, voice typing, script editor, preferences, accessibility settings, and others.
Click the voice typing option from the drop-down list.

In case you are using the Google doc's voice typing feature for the first time a dialogue box will appear on your screen which will ask permission to use this feature.
Click the allow option in order to give access to the microphone to enable voice typing for your Google docs.
The microphone will immediately activate Once you tap it. Google dogs will immediately start writing whatever you speak.

In case you also want to include punctuation marks in your Google docs, you need to say it loud and the voice typing feature of Google Docs will transcribe it as it is.
You can also change the language as per your own preference by simply clicking the downward Arrow of the microphone icon.

As shown in the picture given below we have to change the language to French and it is transcribing as you speak.
Conclusion :-
I hope this article on how to get voice typing on google docs helps you, in this article, we covered an essential guide and the steps mentioned above are quite detailed and easy to follow.